Brandon Marshall Says Justin Fields is the Best Option for New York Jets in the NFL Draft
Published 03/31/2021, 1:36 PM EDT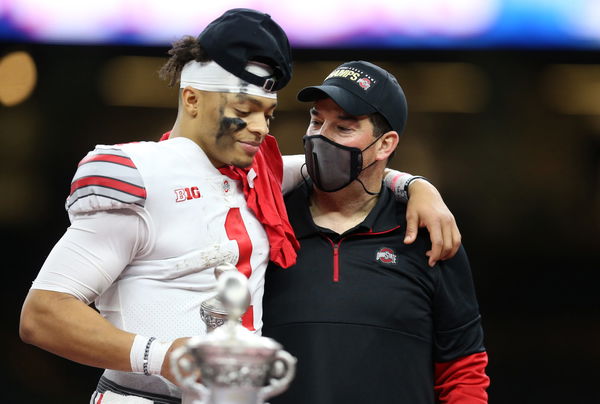 ---
---
Justin Fields is quickly becoming one of the most talked-about prospects in this year's NFL Draft. The Ohio State quarterback had one of the best collegiate football seasons last year, reaching the national championship game.
ADVERTISEMENT
Article continues below this ad
And now, he prepares to make his foray into the NFL, through the advent of the draft. One former player thinks Fields is the best option for one team in the draft.
Former NFL player Brandon Marshall spoke this morning about the New York Jets. He recommended to Joe Douglas, Jets GM, that he can redeem his prior few years with the franchise by drafting Justin Fields.
ADVERTISEMENT
Article continues below this ad
Fields isn't a great General Manager, but drafting Fields is the right choice. He questioned whether Zach Wilson would be the right fit for the New York Jets.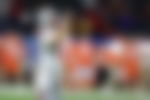 "Joe Douglas isn't a great General Manager. Joe Douglas got the job because he was a great scout. This is your moment to get it right, this is your moment to solidify your position Joe.
"Don't mess it up. Go get your quarterback – Justin. Do you really want to put Zach Wilson into this environment?"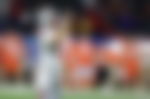 Justin Fields- Ideal fit for New York Jets?
Marshall added that New York City is the biggest media market in the country. And putting Wilson there isn't a good idea because he wasn't at a large university that got press coverage.
Justin Fields, on the other hand, played for one of the most historic collegiate teams, and took his team to the championship game. Fields is ready to take on the pressures that come with playing in New York.
"We keep talking about the New York media. You have to be cut from a certain type of cloth. This dude Zach Wilson, I love him. He's going to be successful in the NFL, but he's been tucked away in BYU.
ADVERTISEMENT
Article continues below this ad
"This dude (Fields) has done it on the biggest stage two years in a row. He is cut for this type of environment, so you go get Justin Fields because he can handle this New York media, and he's a baller. He has all the tangibles you need to lead a team for 10-15 years."
Can Justin Fields be a success in New York? He did show his quality last year while playing for the Buckeyes. And Marshall made a good point about Fields being more media savvy and knowing how to handle the relentless media coverage that comes with playing in New York.
ADVERTISEMENT
Article continues below this ad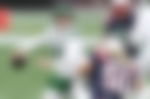 Trending Stories