BREAKING: Amazon Shows Interest in Pat McAfee to Host 'McAfee-Cast' Similar to Peyton and Eli Manning's 'ManningCast' for TNF
Published 05/27/2022, 8:22 AM EDT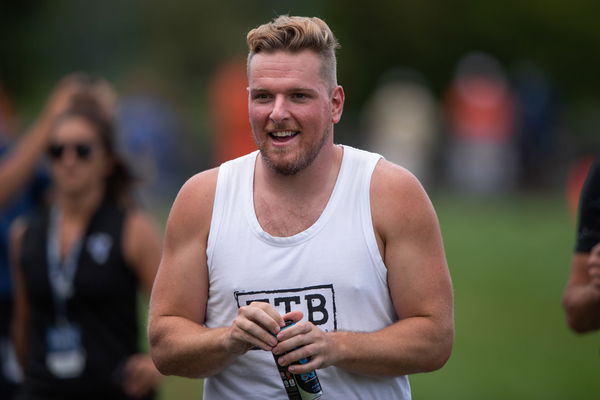 The former Indianapolis Colts punter Pat McAfee might host a new show called 'McAfee-cast' for Amazon Prime. This would prove as an alternative to Manning brother's weekly show 'Manning-cast' on ESPN. Moreover, it will cover the Thursday Night Football games and provide an opportunity for Amazon to compete against its broadcasting rivals in the upcoming season.
As of now, there hasn't been an official announcement from either side regarding the deal. The news was first disclosed by Michael McCarthy of Front Office Sports. However, the source is still unclear as to how and when the agreement would take place.
ADVERTISEMENT
Article continues below this ad
Already, McAfee has so many commitments that his schedule is tightly packed. Currently, he is working as a WWE commentator and hosts his talk show through YouTube. After completing an extension career in NFL, McAfee chose to become a full-time analyst. As a result, he started streaming the Pat McAfee Show and later took up the job in WWE as a star commentator.
If the Amazon gig happens to be successful, McAfee will get an opportunity to air his talk show on the platform. Meanwhile, this deal would ensure the 35-year-old stream live from the comfort of his home in Indianapolis.
Something similar to what the Manning brothers have been doing for the past few months. The Manning-cast became so popular that Peyton Manning's Omaha Productions and ESPN won Emmys under the sports category for outstanding live series.
Their episodes attracted a viewership of around 1.58 million on average. Moreover, it also garnered interest from sports legends, Tom Brady & LeBron James, fueling their campaign even more in the industry. Amazon will look forward to moving ahead with a similar idea under the leadership of McAfee.
Pat McAfee hinted at possibilities over the deal
It seems the deal was progressing over the last few weeks. In February, McAfee confirmed that he got indulged in some talks with Amazon. But he wasn't sure if he could handle this additional responsibility apart from his current set of commitments. "I can't call games. Not yet," McAfee said at the time. "Have to be done with this show to call games. Because that's like a 3-day, 4-day thing," he added.
ADVERTISEMENT
Article continues below this ad
The streaming platform had hired popular American commentators like Al Michaels and Kirk Herbstreit to announce TNF. Reportedly, Amazon is paying NFL a whopping sum of $1 Billion to stage the show as an exclusive broadcaster of Thursday Night football. NFL Commissioner Roger Goodell praised their motives and extended his support.
"I really believe that Amazon Prime's going to change the way people watch football. Amazon's platform is going to allow us to do things that we've only dreamed about to date." Godwell said.
ADVERTISEMENT
Article continues below this ad
It will be interesting to see whether McAfee decides to take the offer or continue with his talk show on other media platforms.
Watch This Story – Tom Brady Spills His Secret to Stay Healthy; Shares 6 Simple Steps
Edited By: Deepika Bhaduri