Brett Favre Congratulates Aaron Rodgers For Breaking Packers TD Record; Also Makes A Special Request
Published 12/26/2021, 9:01 AM EST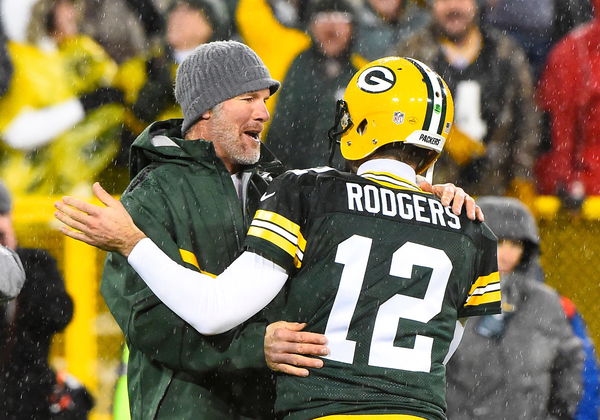 ---
---
Aaron Rodgers has finally done it. We all knew it was only a matter of time before he claimed the record. After making his 443rd touchdown, Rodgers has put his name in the history of the Green Bay Packers forever. The quarterback has surpassed the previous set record by the legendary Brett Favre.
ADVERTISEMENT
Article continues below this ad
Rodgers tied Favre's record in the last Packers game against the Baltimore Ravens in Week 15. Nobody is more proud than Brett Favre himself. After his record broke, Favre congratulated Rodgers. He also made a special request to the quarterback. Something that all the Green Bay Packers fans want as well. 
ADVERTISEMENT
Article continues below this ad
Aaron Rodgers taking over the record
On Christmas Day, the Green Bay Packers faced the Cleveland Browns. This game was huge for Aaron Rodgers. He was determined to break the Packers' all-time touchdown passes and win the game. Rodgers was able to do both of those things on Saturday night. The Packers beat the Browns 24 to 22. The game was a hard-fought victory. It was anybody's game until the end. But Rodgers and the boy took it home.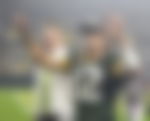 It did not take long for Aaron Rodgers to make history. He took over the record in the first quarter of the game. With 5:18 remaining on the clock, the Packers were 6 points down. They needed a way back into the game. Rodgers was on the attack, and he found the wide receiver, Allen Lazard. He connected with Lazard, who carried the ball to an 11-yard touchdown. This was Aaron Rodgers' 443rd TD pass for the Packers. He has set a new franchise record. 
Brett Favre's special request for Rodgers
Brett Favre has always been there for Aaron Rodgers. Even after retiring from professional football, Favre has always been like a mentor for Rodgers. Brett was rooting for Aaron to break his record. After Rodgers achieved the incredible feat, Favre was one of the first people to congratulate him.
ADVERTISEMENT
Article continues below this ad
Former Packers quarterback recorded a video for Rodgers. In the video, he said, "A12, congratulations, man on passing my touchdown record," then Favre made a special request, "I have one request, go get us another Super Bowl. Congrats." 
Brett Favre has motivated Rodgers and the Packers to bring home another Super Bowl. The last time they won the Super Bowl was in 2011. This season, they have a good squad, and they can win it all. However, would they?
ADVERTISEMENT
Article continues below this ad
Write your predictions and thoughts in the comment section below.