Brett Favre Dismisses Patrick Mahomes from GOAT debate
Published 11/16/2020, 3:51 AM EST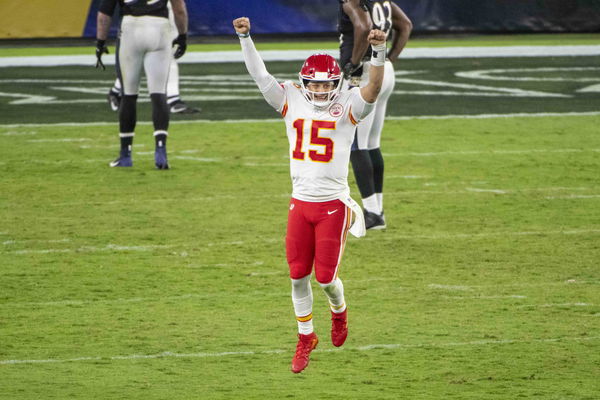 ---
---
Patrick Mahomes, Kansas City Chiefs' quarterback, has been in form with a passing range of 4,777 yards, 44 passing touchdowns, and 2 interceptions. No quarterback in the NFL history has thrown over 40 touchdowns with less than 5 interceptions in the same season.
ADVERTISEMENT
Article continues below this ad
Patrick Mahomes, in his very first NFL season in 2018, won the MVP in which he achieved 50 touchdowns and 12 interceptions with a complete throw range of 5,097 throws.
Many analysts and NFL pundits decided that it would be difficult for any NFL player to match this score, especially not the rookies.
ADVERTISEMENT
Article continues below this ad
Mahomes has notched 25 touchdowns and only 1 interception over the course of 9 games. His rating as a quarterback stands at a solid 115.9.
Mahomes' performance in the first 40 games of his career was at par with the best 40 performances of NFL Hall of Famers like Brady, Montana, Aikman, Manning, Rodgers, Favre, and many others. He is often considered as one of the best quarterbacks to ever play the game at an early age of 25.
Mahomes has grown not just as a player, but also as a person. Mahomes has matured, In a press conference, he said that he has become smart and now he understands the defenses are at a higher level.
Despite all the growth Mahomes has been showing, some people feel he might still have a long way to go before becoming one of the best quarterbacks in the NFL, and maybe after a long time, he might make the cut.
ADVERTISEMENT
Article continues below this ad
Brett Favre was asked if Mahomes is a part of the conversation of the best quarterback ever, he, without the blink of an eye, just said, "NO", he further added, "He is great, but he needs to play many more years, which if he does, there is no question that he is in the conversation." Brett Favre ended it by summing his entire justification with just two words "too young".
"The guy is great, we all agree, the guy is great, what he's accomplished so far is outstanding," Favre said about Mahomes.
ADVERTISEMENT
Article continues below this ad
It wasn't that Mahomes didn't impress Favre, it's just that he is too young, and that it's too early for him to be considered one of the greatest of all times.