"Brian Baker [Could Bring] the Colts back to glory" – Analyst Praises Indianapolis Colts' New Defensive Line Coach
Published 06/16/2020, 2:20 PM EDT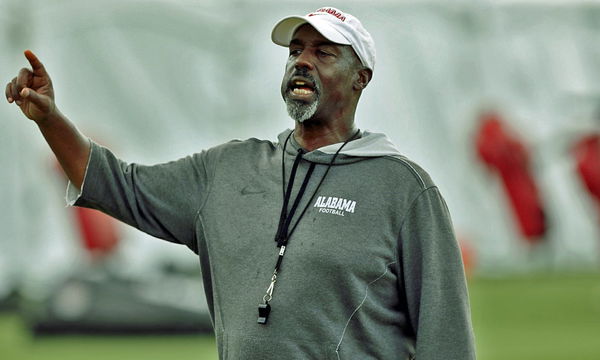 Coaches play a major role in the NFL. Without their mentoring, assistance, and knowledge, the sport wouldn't be what it is. While we know all (or most) of the 32 head coaches, we don't really know the Assistant Coaches, whose contributions are so vital to a team's play. Good Morning Football's Peter Schrager believes Indianapolis Colts defensive line coach, Brian Baker is among these coaches who deserve "some shine".
Indianapolis Colts' defensive line coach is the one to watch
The Colts announced in February that they will be welcoming Baker to the team this season. Baker has 19 years of NFL experience and over 36 years of coaching experience. Before joining the Colts, he was the defensive line coach for Alabama University. He was on Nick Saban's staff as associate head coach.
ADVERTISEMENT
Article continues below this ad
In its press release about bringing Baker on board, Indianapolis wrote – "He spent time on the defensive staffs for the Washington Redskins (2014), Cleveland Browns (2013), Dallas Cowboys (2011-12), Carolina Panthers (2009-2010), St. Louis Rams (2006-08), Minnesota Vikings (2001-05), Detroit Lions (1997-2000) and San Diego Chargers (1996). Baker coached at Georgia Tech from 1987-95. He served as the linebackers coach in each of those years and added the defensive coordinator title in 1995. Baker coached running backs at Army in 1986. He spent two seasons at his alma mater, Maryland, as a graduate assistant (1985) and student assistant (1984). Baker played outside linebacker at Maryland from 1980-83 and helped the Terps win the ACC championship in 1983."
You know the 32 Head Coaches. But who's an Assistant Coach that could be a huge difference maker this season?@PSchrags points to new @Colts Defensive Line coach Brian Baker, a man with 36 years of experience, and a lengthy list of legends who learned under his wing. pic.twitter.com/OYBHPHzmPJ

— GMFB (@gmfb) June 16, 2020
Schrager believes Baker brings "intensity and experience". He has been responsible for coaching notable players like DeMarcus Ware, Julius Peppers, Ryan Kerrigan, and many more. He is also credited for the development of Jeffery Simmons and Montez Sweat while they were at Mississippi State. Baker has coached eight Pro Bowlers in his career, so far.
Peter added that "it could be Brian Baker who brings the Colts back to glory and gets them that AFC South edge that they have not had since Andrew Luck left the building last August."
ADVERTISEMENT
Article continues below this ad
Baker's past connection with the Colts and his future there
Baker has been a Colts fan since even before the franchise moved to Indianapolis. "When I went away to college is when the Mayflower truck moved the franchise", Brian said in a virtual press conference, earlier this month. "It took me a while to even say Indianapolis Colts. I would either say Indy or I would say Colts. I couldn't put the two together for a while. But I've gotten over that." He is a Baltimore native – the same city which the Colts called their home till 1983.
Baker has played with Frank Reich, the Colts' head coach, at the University of Maryland and has coached with Matt Eberflus in the NFL previously. He is, thus, very excited to be in Indianapolis and thinks of this opportunity as a blessing. He further added that he is excited about being with 'Flus because "he believes in defenses being fast, physical and relentless. And I'm the same exact way. I've always been that way."
ADVERTISEMENT
Article continues below this ad
He further commented on his coaching philosophies by saying, "we're going to impose our will by giving them some tools; they provide the desire, the good lord gave them the ability, and we'll see if we can make it happen."
With his stellar resume and interestingly profound philosophy, Brian Baker might just be what the Colts need to turn their 9 losses (against 7 wins) from last season round.