Broncos HC Nathaniel Hackett Makes Explosive Move That Will Push Russell Wilson to His Usual Excellence Amidst Harrowing Season for Denver
Published 11/20/2022, 3:07 PM EST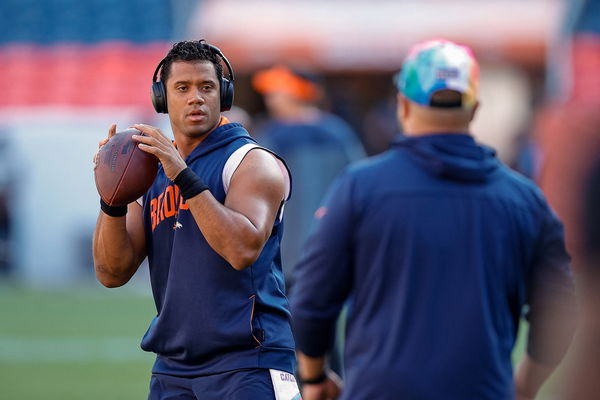 The Denver Broncos are struggling to get back to their winning ways. Russell Wilson and the Broncos have not enjoyed the success they thought they would. Offensively, the team has underperformed throughout. However, Broncos HC Nathaniel Hackett may have a solution.
Denver head coach Nathaniel Hackett is sacrificing his pride and putting the franchise's priority ahead of his own. Hackett has decided to let Denver Broncos' quarterback coach Klint Kubiak do the play-calling for DangerRuss against the Raiders on Sunday.
ADVERTISEMENT
Article continues below this ad
The Denver offense is plagued with injuries to multiple key players and Russell Wilson is not in his Seattle Seahawks Super Bowl-winning form. Wilson has only 7 touchdowns after 10 weeks of regular season games and has been intercepted 5 times. Russell also has a career-low 57.4% pass accuracy. However, Hackett's ingenious strategy may turn the table for Russ and the Broncos.
ALSO READ: "This Can't Be True": NFL World in Complete Denial on Russell Wilson "Losing His Mind" Over Seahawks News
Quarterback coach Klint Kubiak is the son of former Denver Broncos QB and Super Bowl-winning coach, Gary Kubiak. Kubiak will be in charge of the radio talk and calling the plays for Russell Wilson against their divisional rivals, the Las Vegas Raiders on Sunday night.
Hackett is giving up his playcalling for Russell Wilson
Broncos HC Nathaniel Hackett knows a thing or two about offensive coordination from his days as an OC for the Buffalo Bills, Jacksonville Jaguars, and the Green Bay Packers. However, with Broncos Nation's 3-6 record this season, Hackett finds himself in a major predicament. That coupled with a league-high 15 players on the injury reserve has made things exponentially difficult for Russell Wilson.
ADVERTISEMENT
Article continues below this ad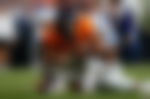 Playcalling responsibilities and changing hands are nothing uncommon in the NFL. Nathaniel Hackett is following Philadelphia Eagles head coach Nick Sirianni and NY Giants HC Brian Daboll who have done it before and achieved positive results.
The Denver Broncos thought Russell Wilson will take them back to their glory days. The days of John Elway and Peyton Manning and Super Bowl Championships. However, the Broncos nation is nowhere close to that end goal. The Denver Broncos ranks last in the league in points per game with 14.6 PPG. They have also scored the fewest point at home this season with an average of 11.3 PPG.
ADVERTISEMENT
Article continues below this ad
The Las Vegas Raiders beat the Broncos 32-23 in their first divisional matchup up in Week 4 this season. This is Russell Wilson and Hackett's time to exact their revenge. Can Klint Kubiak's play-calling help Wilson change the Broncos' fortunes?
WATCH THIS STORY: One line from Russell Wilson's tribute to his father shows Broncos QB has a heart full of love
Edited By: Deepika Bhaduri