Buccaneers' LeSean McCoy Reveals Tom Brady Thinks Patrick Mahomes Can Surpass Him as the GOAT
Published 03/03/2021, 1:58 PM EST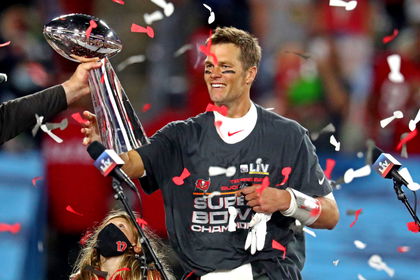 ---
---
Tom Brady and Patrick Mahomes are two of the most mercurial quarterbacks in NFL history. The two faced off for only the second time in their careers in the Super Bowl last month.
ADVERTISEMENT
Article continues below this ad
Brady got the better of their exchange, and Mahomes had a poor night. However, Brady believes that Mahomes can surpass him as the greatest of all time.
Buccaneers' LeSean McCoy spoke to the press recently. He noted that Tom Brady genuinely thought that Patrick Mahomes can become the greatest of all time.
ADVERTISEMENT
Article continues below this ad He also noted that Brady looks at other quarterbacks and thinks that they are not driven because they choose to take the maximum amount of money, unlike himself.
He said, "I think Tom Brady when he looks at other quarterbacks — from young and old — he feels Pat will be the only one that gets it, that will have a shot.
"For example, most quarterbacks — they take the money. Tom didn't do that. Tom saved that and (was) fiscal with his players. Pat's the same way."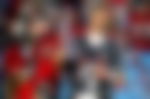 Patrick Mahomes- The successor to Tom Brady?
McCoy added that Patrick Mahomes and Tom Brady are very similar in the financial respect. They both would sacrifice their pay-day in order to help improve the team.
Brady believes that only Mahomes understands that he can only be as good as the team around him. He noted how he did that for players like Travis Kelce and Tyreek Hill.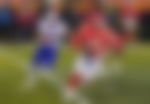 "He knows 'I'm only going to be as good as my team.' So now, I find a deal where I can pay my defensive end, defensive tackle that can get pressure on the quarterback, pay my superstar tight end (Travis Kelce), pay Tyreek Hill.
ADVERTISEMENT
Article continues below this ad
"You can do that when you don't take all the money. He always talks like that. Mahomie gets it. He's the dude that wants to be the greatest.' Pat's got a great chance — and he's started so early."
Can Patrick Mahomes surpass Tom Brady as the GOAT? He is still very young in his career and has a lot of time left to accomplish what Brady has already done.
However, some will believe that him not being able to defeat Tom Brady when it counts disqualifies him from being considered greater than Brady, even if he wins more titles.
ADVERTISEMENT
Article continues below this ad