Buccaneers' TE Position Strengthens in Depth; Casts Shadow On Rob Gronkowski's Future
Published 05/16/2022, 6:00 PM EDT
Tight end Rob Gronkowski's future with the Tampa Bay Buccaneers may be in jeopardy, with the team having significant strength in depth at tight end.
Popularly known as Gronk, Gronkowski is currently a free agent and has not signed with the Buccaneers for the 2022 season, despite rumors that he might return for the season.
ADVERTISEMENT
Article continues below this ad
What does the 2022 season have for Gronk?
The 2022 season sees the Bucs having a set of tight ends on their roster. While they do not substitute Gronk's talent and experience, it makes the veteran tight end's absence slightly easier to fill.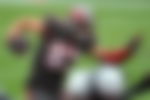 The Bucs now have JJ Howland and draft picks Cade Otton and Ko Kieft and undrafted rookies Ben Beise and Howland at tight end, giving them the required strength in depth for the season.
This might make it more difficult for Gronk to return, as he has announced no intention of returning to the Buccaneers yet. While the Bucs may yet welcome him with open arms, this window may reduce as the regular season draws nearer.
Why is Rob Gronkowski a free agent?
ADVERTISEMENT
Article continues below this ad
Gronk is currently a free agent in the NFL. In 2018, he announced his retirement from the league and did not play for the 2019 season. However, he returned in 2020 to the Buccaneers, where he played the 2020 and 2021 seasons on one-year contracts.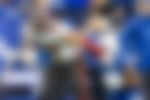 Gronk was a part of the New England Patriots till 2018, playing for almost a decade, since being drafted as a rookie in 2010.
ADVERTISEMENT
Article continues below this ad
Fans credit Tom Brady with Gronk's return from retirement. The latter, however, has said that he would play at the Bucs even if Brady retires.
Watch this story: The House of LRC: Russell Wilson and Ciara Set to Open a New Fashion Store in Denver