Buffalo Bills Draft Punter Hailed as 'Punt God' at No.180 Overall; Former Punter Pat McAfee Isn't On Board With Nickname
Published 05/01/2022, 6:38 AM EDT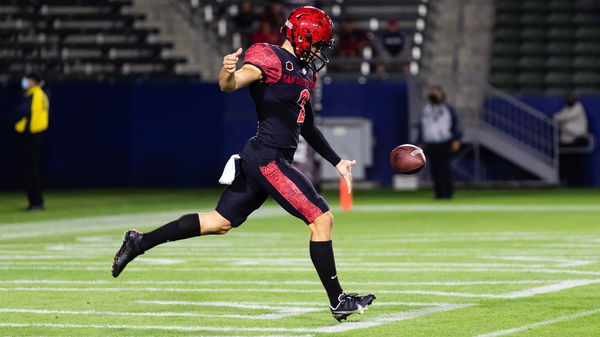 The Buffalo Bills have been making major splashes in the 2022 offseason. After snagging Von Miller in the depth chart, the franchise had a brawny line-up already. Albeit the Buffalo Bills only acquired the third punter on the closing day of the 2022 NFL Draft, they surely drew the most attention. However, the 'Stupendous' Pat McAfee isn't on board with Bills' new pick as the 'Punt God'.
Bills' recent No. 180 overall pick, 'Punt God' Matt Araiza has come under major news waves. He's amongst the most intriguing talents inside the NFL Draft in 2022. Contemplating he's a punt kicker, that's speaking a lot. That dynamic will almost certainly create a prosperous life, ensuring substantial amounts of money and some huge NFL milestones in the long run.
ADVERTISEMENT
Article continues below this ad
San Diego State punter Matt Araiza, who has a devout moniker, is heading from the glorious sunshine of Southern California to the howling weather of Buffalo. The Bills took him with the No. 180 overall choice in the sixth round on Saturday.
While Araiza is fine about the Bills Mafia continuing to call him 'Punt God' since it's been a real blast, Pat McAfee isn't in favor of the moniker. Nevertheless, after the Bills acquired Araiza, the famous punter and media sensation gushed about him, stating that he's an elite athlete with a massive leg.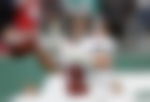 He mentions, "Shane Lechler is my Punt God BUT.. Massive CONGRATS to [Matt Araiza]. GREAT athlete.. MASSIVE LEG…
ADVERTISEMENT
Article continues below this ad
Buffalo Bills seek to fixate on punters
The three-time All-CIF San Diego Section punter at Rancho Bernardo High School before becoming an All-Mountain West Conference star for the Aztecs brings as much star quality as a punter would. Despite all the fanfare around the special teams' legend, he was only the third punter taken in the draft. He got selected behind Penn State's Jordan Stout and Georgia's Jake Camarda.
In 2021, Araiza dubbed the "Punt God," set an NCAA record with a 51.2-yard average on his punts. In 73 kickoffs, he had 62 touchbacks.
ADVERTISEMENT
Article continues below this ad
His hefty kicks earned him the Ray Guy Award (nation's best punter) in 2021, as well as first-team AP All-American honors. Even though the Bills aren't recognized for punting. When they do, they will expect Araiza to tilt the board and be a threat on kick returns.
Watch This Story: NFL Teams Feast on These First Five Overall Picks in the 2022 NFL Draft