Bills Mafia Raise Massive Amount for Visually Impaired in Honor of NFL Referees
Published 12/16/2021, 4:39 AM EST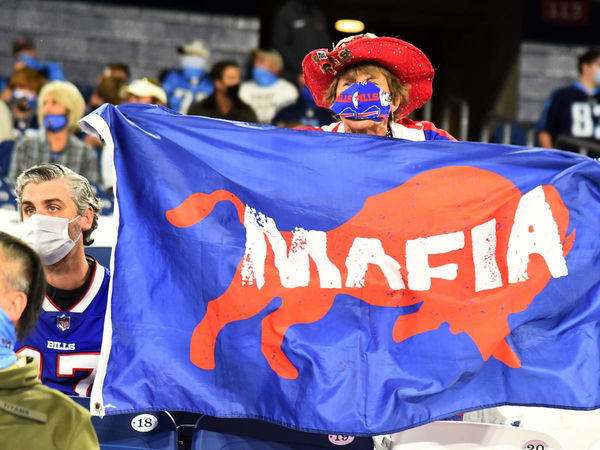 ---
---
Buffalo Bills fans, also known as Bills Mafia, are at it again. A Mafia is usually a gang of thugs who steal money to satisfy their devious needs. But not the Bills Mafia. This Mafia is known to raise money from time to time for good causes. This time they raised money in honor of the NFL referees for the visually impaired. 
ADVERTISEMENT
Article continues below this ad
Buffalo Bills fans are unstoppable
ADVERTISEMENT
Article continues below this ad
Since 2018, The Bills Mafia is unstoppable. They have raised money for many good causes before. They are known for generously donating to many organizations. The Mafia has raised money for their players, such as Josh Allen and Tre'Davious.
They have also raised money for players of other teams like Lamar Jackson and Andy Dalton. The Mafia donated $100,000 to Andy Dalton's charity after the former Cincinnati Bengals quarterback scored a game-winning touchdown against Baltimore Ravens. It sent the Buffalo Bills to the playoffs. So the fans wanted to thank Andy for his efforts. 
In 2019, after the death of their quarterback, Josh Allen's grandmother, the Bills Mafia, was on a mission again. The fans donated over $1.4 million to Buffalo's John R. Oishei Children's hospital. They named the Patricia Allen Pediatric Recovery Wing in honor of Josh's grandmother. 
Bills Mafia raised $18,000 in 24 hours for the visually impaired
ADVERTISEMENT
Article continues below this ad
What started as a joke soon turned into a generous cause. The Bills fans blamed the officials calling the Tampa Bay Buccaneers' match for the loss. The Bills lost 33-27 in overtime. They started donating to a non-profit organization that helps people with vision loss. The fans did this to mock the referee and call him blind. Most of the donations were $17. It was a tribute to their quarterback, Josh Allen. 
News 4 Buffalo reported that over $20,000 has been donated in $17 increments. They recorded this number only until Wednesday afternoon. The donations keep on coming, and the final amount will be significantly higher. Even though it started as a way to mock the officials, this amount will change the lives of many people. 
ADVERTISEMENT
Article continues below this ad
In week 15, the Bills hope to end their two-game losing streak. Their current record is 7-6. The Bills are currently standing second in the AFC East division. They have good chances to make it to the playoffs.