Buffalo Bills to Observe Juneteenth in Celebration of Black History and Culture
Published 06/19/2020, 3:15 PM EDT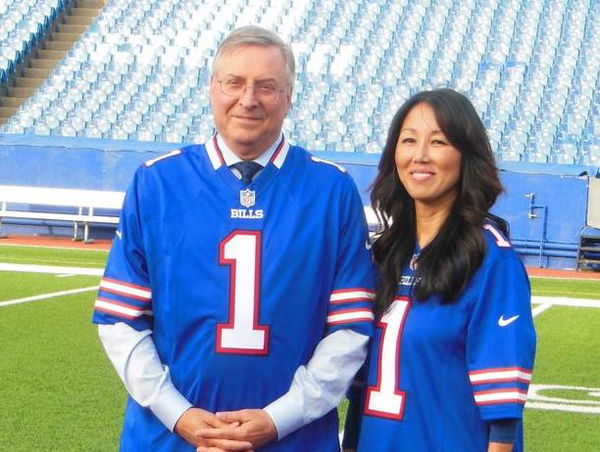 Juneteenth, the historic holiday celebrating the end of slavery in America has garnered a new meaning after the deaths of George Floyd, Breonna Taylor, and Ahmaud Arbery. The holiday has been a symbol of how hard but important it is to live up to the American ideals of freedom and democracy. For many years, there have been calls to institute Juneteenth as a federal holiday. This year, however, companies across the nation have decided to give their employees a paid off on June 19. And the Buffalo Bills are no exception.
Buffalo Bills to observe Juneteenth as a holiday
In a statement on Thursday, the Buffalo Bills' owners, Terry and Kim Pegula announced that their organizations will observe Juneteenth as a holiday. They have encouraged employees to "celebrate Black history and culture" on this day. "Seek a greater understanding of social injustice and racial inequality", the statement reads. Moreover, employees have been urged to "embrace our nation's diversity".
ADVERTISEMENT
Article continues below this ad
https://www.instagram.com/p/CBjIEWFDca0/?utm_source=ig_web_copy_link
The Pegulas were in the news recently over their financials having softened due to the ongoing pandemic. Terry Pegula said, however, in a video conference that there is no such issue. "I don't know where that rumor started. If you look at every oil and gas company, which is our core business outside sports, they're all—you might use the word—hurting. But we don't have any debt on our oil and gas business."
Other than the Buffalo Bills, the Pegulas own teams in the National Hockey League, the American Hockey League, and the National Lacrosse League.
Other Bills news
ADVERTISEMENT
Article continues below this ad
Buffalo's head coach Sean McDermott and general manager Brandon Beane are heading into their contracts' expiry in 2021. Having led the Bills to the playoffs twice, they seem to be thinking about the team's long-term goals. Their contracts' extensions may, thus, be necessary and vital to the team's future success after the 10-6 season in 2019.
Athletic's Tim Graham recently wrote, however, that sources close to McDermott said past "meetings left him concerned about low morale eroding the culture he and [Beane] have cultivated."
Despite everything going on, the Bills haven't forgotten to lighten up once in a while. In what was a rather fitting reply to the Pittsburgh Steelers' first voice tweet featuring the song, Renegade, the Bills shared a video of backup quarterback Matt Barkley grooving to the song at Heinz Field.
ADVERTISEMENT
Article continues below this ad