"But The Business Side Can Jade The S*it Out Of You": Former NFL Punter Doubles Down On George Kittle's Latest Comments About 49ers Teammate Deebo Samuel
Published 06/30/2022, 11:30 AM EDT
Former Indianapolis Colts punter Pat McAfee recently supported San Francisco 49ers' tight end George Kittle and his take on wide receiver Deebo Samuel. Samuel and the Niners organization find themselves in a deadlock after handing in his trade request during the offseason. Despite putting in the trade request, reports suggest that the WR was back in the Niners minicamp for getting ready.
ADVERTISEMENT
Article continues below this ad
During his recent appearance on the Barstool Sports' "Bussin' with the Boys" podcast, Kittle was supportive of Samuel getting his payday. Kittle believes that the franchise might have saved more money by handing him a lucrative contract earlier. The star Niners TE was not hesitant in supporting Samuel getting his rightful money. He believes that Samuel deserves a lucrative deal for his performances last season.
ADVERTISEMENT
Article continues below this ad
The comments garnered the attention of former Colts player Pat McAfee, who discussed it on his podcast. He shares his beliefs, stating, "…Any business issue can be settled with the right deal. And in the right deal maybe you don't get what you want, and they don't get everything they want…It's an uncomfortable decision…I assume as you got older that happened, but the business side can jade the s*it out of you in the NFL. I respect and admire the fact that Kittle's coming out for his teammate."
Pat McAfee believes Deebo Samuel is deserving of a lucrative contract
McAfee echoes the beliefs of his co-host, AJ Hawk, that Kittle's support for Samuel should not be surprising for fans. It is the mentality of a modern player in the NFL. Hawk claims that NFL players and coaches don't care about off-the-field contract situations and issues of active players. He adds that they only want their teammates to pull in the same direction for on-field success if they are part of the team or playing in games.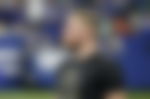 ADVERTISEMENT
Article continues below this ad
McAfee backs Hawk's claims that the business side of the NFL has an effect on the modern-day locker rooms. It has taught them to maintain a professional decorum over off-the-field issues. The Colts punter adds that the Samuel situation is due to his sudden emergence and left the Niners hierarchy wondering about his value.
Despite a stunning 2021 campaign, the franchise still has doubts about the WR delivering results in the future.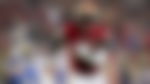 ADVERTISEMENT
Article continues below this ad
The poor injury record in the past and small sample size put the Niners in a tough spot while negotiating. Despite all the confusion around him, there is growing optimism about working out a deal with the franchise. The 49ers fans hope to see Samuel again put on a show in the upcoming season as they look to win the Super Bowl again in 2022.
Watch This Story: NFL's Heartthrob Aaron Rodgers, Just before his Sole Super Bowl Win Revealed His Ultimate Celebrity Crush And It Wasn't Shailene Woodley or Olivia Munn
Edited By: Gurjyot Singh Dadial