WATCH: Byron Kennedy Shows Off Gifts From Tom Brady For Returning 600th TD Football
Published 11/06/2021, 7:47 AM EDT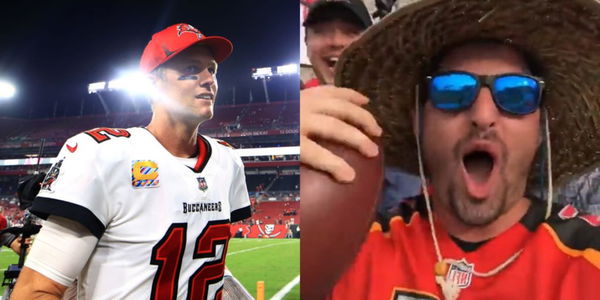 ---
---
Tom Brady cemented himself as the greatest to step onto a football field when he threw his 600th touchdown pass. Caught by Mike Evans, the wide receiver sheepishly gave the ball to a fan. Once the Buccaneers realised the actual value of the ball, they retrieved the ball, and Tom Brady himself reimbursed the fan with tons of goodies. That fan, Byron Kennedy, showcased the gifts he received.
ADVERTISEMENT
Article continues below this ad
Bucs fan reveals what Tom Brady gifted him for returning 600th TD ball
ADVERTISEMENT
Article continues below this ad
Throwing 600 touchdown passes is simply scintillating, and few might touch that record. Aaron Rodgers is still far behind, and Patrick Mahomes needs to stop throwing interceptions to appear on this list. For now, Tom Brady is the undisputed king of the quarterbacks. The king, upon receiving his special football back, gifted the fan tons of stuff.
From jerseys to shoes and even one Bitcoin, Byron Kennedy instantly became the luckiest man on the planet. He showed off his two autographed Tom Brady jerseys, an autographed Mike Evans jersey, signed helmet, cleats, and, of course, the Bitcoin, which he cannot physically produce.
Appearing on FOX 13 Tampa Bay, Byron Kennedy spoke about receiving these valuable gifts. "Had I kept it, I would've held onto the ball. That ball wasn't gonna leave my house. So I never would've had $500,000 like everyone said. I would have had a cool piece of memorabilia in my office which I have now."
The host of the show clarified that Brady's second jersey was for his friend who got him to the game. He even received two season tickets for the rest of the year, which he would surely hand to his friend. He also received a $1000 towards the Bucs team store, allowing him to pick up whatever he wants from there up to a grand.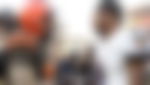 Happiest day of Byron Kennedy's life
ADVERTISEMENT
Article continues below this ad
There's no way Byron Kennedy would forget the day he received that football. Even though Mike Evans almost made a gigantic blunder, Kennedy returned what is essentially a piece of history.
"I got everything I wanted and more. I wasn't expecting to get half of the stuff, so this has been fantastic. Feel like I made it out like a bandit. When Tom Brady looks at the ball in his house, he's going to think, 'Byron, thank God for him. He's such a good guy. Gave me that ball back.' So that's really cool."
ADVERTISEMENT
Article continues below this ad
"I'm very happy with everything that's happened. I don't think it could've worked out any better for me. I'm kind of attached to that ball forever."