Cam Newton New England Patriots Contract Renewal Imminent? Here's the Latest
Published 02/16/2021, 7:11 PM EST
Bill Belichick was handed a monumental task at the start of 2020 when Tom Brady announced his decision to leave New England after a 20-year-long tenure. The veteran coach decided to bring in a quarterback that could at least try to fill Brady's shoes. Enter 2015 NFL MVP Cam Newton.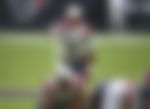 After 2 injury-riddled years with the Carolina Panthers, Bill Belichick offered Newton a way out with a 1-year deal in 2020. The former Auburn star gladly obliged. But Newton and Belichick could only lead the Patriots to a 7-9 finish.
ADVERTISEMENT
Article continues below this ad
The 31-year-old finished the season with 2,600+ passing yards and 8 passing TDs as well. In addition to that, he had 592 rushing yards and 12 rushing touchdowns to his name.
Will coach Belichick offer the controversial shot-caller another short-term deal in the coming weeks?
Cam Newton most likely to re-sign for the Patriots in 2021
Despite a mediocre season with New England, Newton is expected to say put in Foxborough, at least for the upcoming season. Earlier this week, Cam Newton himself admitted that he would be happy to return for the Patriots in 2021. ESPN analyst Steven Smith agrees.
He said, "I think (Belichick) actually wants to give Cam Newton a second go-round at all of this. I could be wrong, because I'm not reporting on the team, I'm not in Boston; they are.
"But that's just the sense that I get. And it would not shock me if I ended up seeing Cam Newton back in New England next season.
ADVERTISEMENT
Article continues below this ad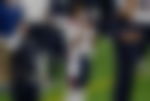 "I don't think it's the right move, because I think Cam Newton needs weapons. And he don't have them in N'Keal Harry and others. But I do think that Bill Belichick is inclined to keep him on board for some reason," Smith said on the show.
One can argue that Newton's advancing age and physical fatigue are not an ideal mixture for a 'franchise quarterback'. But with Jarrett Stidham and Brian Hoyer the only other QBs on the roster, coach Belichick does not have much of a choice to make.
ADVERTISEMENT
Article continues below this ad
Unless the Patriots bring in someone like Deshaun Watson, Jimmy Garoppolo, or maybe even Russell Wilson this summer, Cam Newton will most definitely return.