Cam Newton on His Struggles With the Year 2020
Published 01/01/2021, 10:43 AM EST
By
New England Patriots' star quarterback, on the 31st of December 2020, described the struggles he faced in 2020. 2020 has really been very harsh on Cam Newton. Even the NFL season didn't turn out as Newton thought.
ADVERTISEMENT
Article continues below this ad
Although 2020 didn't quite work out for Newton, he learned a lot from the year. He opened up about everything he learned from the year 2020 and also how he plans to go about life in 2021.
Carolina Panthers released Newton from their team in March 2020. After being released from the team, he went through a long period of unemployment. He subsequently signed with the New England Patriots, replacing Tom Brady.
ADVERTISEMENT
Article continues below this ad
Cam Newton finds faith while battling COVID
He struggled with limitations imposed because of the pandemic and his poor performance on the field. But the actual struggle began when he tested positive for COVID-19.
His fight with covid was definitely tough, but for him staying away from his family was all the more difficult. There was nothing more difficult for him than staying away from his children.
"Being unemployed for 86 nights, yeah that's tough. Having injuries, yeah that's tough," Newton said. "None of it is even a close second to not being able to see your children.
"You miss your kids' first steps. You're not there during Christmas. You're not there on birthdays. And then on top of that, you're sucking?"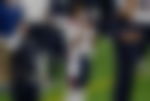 Amidst all this, there was just one thing that helped him really hold himself together. He learned all he can do is have faith in the divine and in himself.
ADVERTISEMENT
Article continues below this ad
He became really optimistic over the course of these tough times, it really changed his perspective of looking at things, be it his bad performance on the field, or his fight with COVID.
"I've learned that, through it all, you only got your faith in God, your faith in yourself. And that's pretty much it. I've really relied on the understanding of trying to find something to build off of," said Newton.
"I don't want to see no part of 2020, but it made me a better person. That, I do believe. And that's something, being a part of this franchise is something that you just don't wash away that stench, that aura of being a Patriot. It's something that's in you."
ADVERTISEMENT
Article continues below this ad
2020, undoubtedly, has been the worst year for Newton statistically, but it's been a year of immense learning for him. He will always cherish and value the experiences this year gave him.
He plans to apply all that knowledge in making his future decisions, one of them being whether to return to New England.