"Can I Babysit?": Super Bowl Superstar Rihanna Gets Flood of Responses From NFL and Music Fans to Resolve Her Latest Concern
Published 03/06/2023, 2:50 PM EST

Follow Us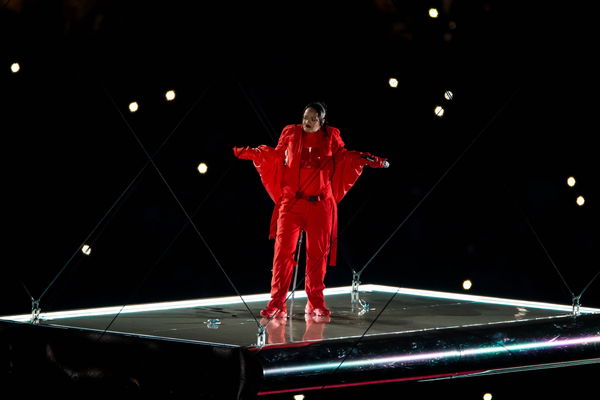 NFL fans still cannot get Rihanna off their minds after her electrifying show at the Super Bowl LVII Halftime Show. NFL fans are all eyes on every step of the Pop star, especially after her big revelation about her pregnancy. And her latest life update had fans flock over to lend a helping hand. Rihanna is going to the Oscars and her son sadly didn't get an invitation.
Rihanna will be at the March 12 Academy Awards ceremony to perform her Oscar-nominated number, 'Lift Me Up', from 'Black Panther: Wakanda Forever'. However, not all of her family entourage is coming along. And RiRi's son looked upset with the information. But the NFL world volunteered to babysit.
Rihanna can't take her son to the Oscars
Barbados Sensation Rihanna and rapper A$AP Rocky had their first son back in May last year. And the couple quadrupled the fan excitement when they announced their second child was on the way. And Rihanna chose the biggest stage in sports entertainment to announce that- The Apple Music Super Bowl LVII Halftime Show.
And that is where things get tricky for Rihanna's firstborn. His sibling, by virtue of still being inside RiRi, has earned an automatic invite to the Oscars. The 'Umbrella' singer posted a carousel of photos showing a disappointed infant. The music power couple hasn't announced their son's name. In the first photo, the little man looked up from his crib, while he enjoyed his mother's Oscar-nominated number in the next story. However, fans are more than happy to help RiRi in times of need.
He's such a beautiful baby! Like his mom!

— Angel Sessions™ (@AngelSessions) March 5, 2023
he looks like he wants you to drop a new album

— manny ☈ (@neverfenty) March 5, 2023
He gonna be watching it on YouTube TV with the rest of us

— J (@johnmarchetti) March 5, 2023
Bring him please…💛💛💛🚨🚨🚨🍼🍼🍼

— Karen Cunningham (@CakeCunningham) March 5, 2023
Awwww look at the little man waiting patiently for he's little brother to arrive. Congratulations y'all

— Kevin Hill (@KevinHill443537) March 6, 2023
He should be proud his soon-to-be-born sister is going to the Oscars with mommy 😍😍😍

— Hannah Tsisah 💐 (@nuna_diva) March 5, 2023
"My son, when he found out his sibling is going to the Oscars and not him," Rihanna captioned the photos on Instagram. However, it is worth noting that Rihanna faced a lot of flak from fans after her halftime show due to various reasons.
RiRi will attempt to move on from her Super Bowl show criticisms
In the video she posted, the Caribbean Queen of Hip-Hop looked to be in rehearsing mode as her son grooved along to the track. And she wants nothing going wrong on the biggest stage of entertainment, the Oscars. Especially after her 13-minute solo set at State Farm Arena last month earned her some criticism for lip-syncing.
Patrick Mahomes and the Chiefs took a lot of the attention away with their win over the Philadelphia Eagles. However, the synchronization issues still brought in complaining fans. And RiRi's first live performance, since her Grammy live in 2018, wasn't exactly flawless for her taste. The pop sensation also hasn't been on an official tour since 2016. And Rihanna doesn't want the pressure to get to her.
WATCH THIS STORY: Rihanna's songs experience 80 million hits despite no album release in years
The Grammy winner can add another piece of decorated silverware to her prized collection if she wins an Oscar next week. A$AP Rocky and the couple's 8-month-old son will surely be rooting for mommy.