"Can't Give Up the Ball Anymore" – Cowboys Running Back Ezekiel Elliott Admits He Needs to Improve
Published 10/08/2020, 11:20 PM EDT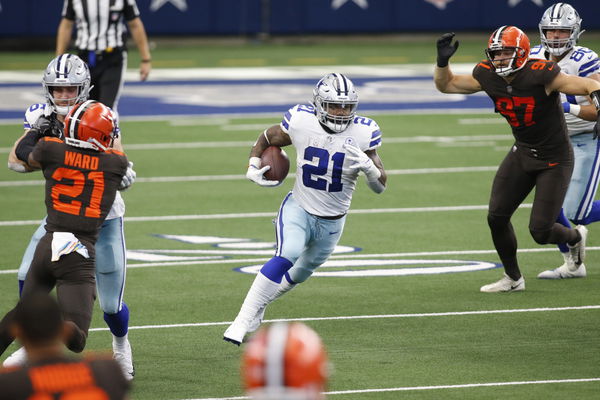 It's been a tough year for Mike McCarthy and the Dallas Cowboys. In his first year as head coach, he has seen his team suffer three losses in four games this season. There have been some standout performers like Dak Prescott and CeeDee Lamb, but the Cowboys defense has not lived up to expectations. Another player who has failed to live up to the hype surrounding him is experienced running back, Ezekiel Elliott.
The reason behind the Cowboys' negative turnover ratio is the high number of fumbles registered by Elliott. The 25-year-old running back has three fumbles from four games this season. He will hope to reduce those numbers heading into the Week Five clash against New York Giants.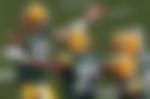 ADVERTISEMENT
Article continues below this ad
Dallas Cowboys running back Ezekiel Elliott looking to put past struggles behind
Zeke has been at the receiving end of criticism for some below-par displays over the last two weeks. In the pre-game interview, the experienced running back admitted that he has to improve from an individual point-of-view to reduce turnovers.
He said, "We've gotten behind in games, and I'd say that's because we've turned the ball over. We're turning the ball over, giving them short fields, and putting them in position to go score and get leads on us. We've just got to take care of the ball early in the game."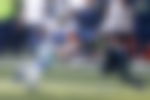 "The fumble in Cleveland, I think once I rolled over and my butt was on his head I kind of eased up and that gave him the opportunity to take the ball out. I just got to focus and work on it in practice and make sure I'm keeping that ball tight," Elliott told the team's official website.
Zeke hoping to get back to winning ways in the coming weeks
ADVERTISEMENT
Article continues below this ad
Ezekiel Elliott is essentially beating himself up over the team's poor results in the opening four weeks. The experienced running back claims himself to be a leader in the dressing room. Hence, he wants to lead by example heading into Week Five of the 2020 NFL season.
"It hurts. I look at myself as a leader for this team. And I look at myself as someone who's supposed to help pick the team up when we get down and not be the cause of falling behind. I can't give up the ball anymore," Elliott concluded.
ADVERTISEMENT
Article continues below this ad
The Cowboys host a hurting New York Giants outfit at the AT&T Stadium this weekend. Following that, they will go up against a strong Arizona Cardinals side featuring Kyler Murray, DeAndre Hopkins, and Larry Fitzgerald. Mike McCarthy's boys will be desperate to secure a win if they want to make the playoffs in 2020.