"Better Than Baker": Buccaneers Fans Urge Super Bowl LII Champion to Take up Tom Brady's Chair, Minutes After New Update
Published 05/15/2023, 11:27 AM EDT

Follow Us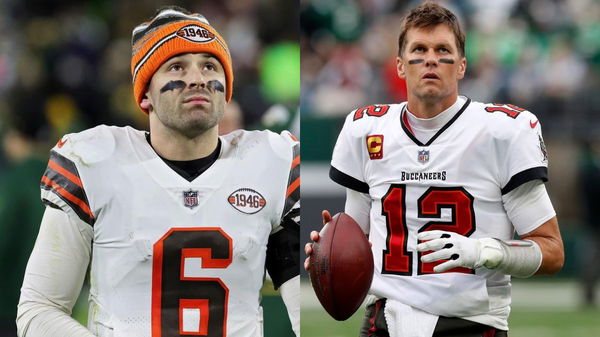 Amidst ownership changes, Coach Ron Rivera aims to guide Washington Commanders towards success, under scrutiny and pressure. On the other hand, news of a former player of Commanders garnered interest from other teams. Fans debate his potential, comparing him to Baker Mayfield and speculating on his ideal fit. Will he rise to the occasion or face further setbacks?
America's Favorite Video Today
A 30-year-old quarterback with a turbulent journey in the NFL faced setbacks and triumphs alike. From being a top draft pick to Super Bowl glory, his career has been marked by both accolades and uncertainties. Now, as a free agent, what lies ahead for this enigmatic player?
Better than Baker Mayfield?
ADVERTISEMENT
Article continues below this ad
The recent news of Carson Wentz receiving interest from NFL teams has sparked mixed reactions among fans. While some speculate that he may have a chance at a starter role, others express skepticism about his prospects.
According to a report by Dov Kleiman, an NFL insider, Carson Wentz, who used to play for the Eagles, Colts, and Commanders, is receiving interest from other NFL teams. The report also mentioned that Wentz is willing to consider both starting quarterback positions and backup roles. Now, fans are analyzing Wentz's draft possibility bluntly.
A fan thinks Wentz > Mayfield. Probably, Buccaneers fans are suggesting that Wentz may take up Tom Brady's chair by replacing Baker.
I'd take Wentz over Baker Mayfield honestly. I think Tampa did the rest of us in the NFC South a favor by going w Baker (our D knows how to deal w him) & probably could compete for the title in a weak division if they had Wentz instead

— Jason Alston (@SoulCitySigma) May 14, 2023
Another fan prefers Wentz over Mayfield, "He's better than Baker, Pickett, Carr, and maybe Tannehill but I don't think those teams would risk it."  He thinks Rams or Pittsburgh could be good options for Wentz's talent and coaching fit.
He's better than Baker, Pickett, Carr, and maybe Tennehill but I don't think those teams would risk it. I think the Rams might be his best bet cause Mcvay is a good QB coach. Pittsburgh makes sense too

— Mack (@Mackgoin_BIG) May 14, 2023
One believes Wentz can start for Pittsburgh, Tennessee, Vegas, Green Bay, and Tampa Bay.
Starter: Pittsburgh, Tennessee, Vegas, Green Bay, Tampa Bay.

Backup: Pretty much anybody.

The guy is talented, no question, but he hasn't been the same since his ACL injury. His struggles seem more mental than physical.

— John (@Red_Dead_Sooner) May 14, 2023
One fan humorously suggests that perhaps Wentz would find more success in the XFL, implying doubts about his abilities.
You sure you didn't misspell XFL?

— Unstoutable (@Unstoutable) May 14, 2023
Another fan dismisses the idea of Wentz securing a starting position right away, emphasizing that backup roles might be more realistic. They also point out that his salary expectations could impact his opportunities, suggesting that anything above $8 million may be too high.
There's literally nowhere he could go and be a starter , at least not out of the gate. I think as a backup though , there will be plenty of opportunities. It's really gonna come down to how much he expects to make because I think anything north of 8M is too much for him.

— Blake Huggins (@BlakeHggns) May 14, 2023
Comparisons to Colin Kaepernick and Cam Newton are made, indicating slim chances for Wentz to secure a starting role similar to Kaepernick's struggles and Newton's recent experiences as a backup.
Hmmm starter QB::: he has same chance as Colin Kaepernick
(In other words, slim to none)
backup QB::: Same chance as Cam Newton
(In other words, welllllllllll )#justsaying

— ⚖️ 🍃G̵̢̠̳͓̓̽̓͆̐̐̋͠𝖑a͓̽d̶ i⃣© 🕊🤎🌐 🌱 (@GladiLDS) May 14, 2023
ADVERTISEMENT
Article continues below this ad
Providing feedback will help us make your experience better.
Enjoyed Your Read? Let us know how likely you are to recommend EssentiallySports to your friends!
Wentz's ups and downs
The former QB Wentz for the Commanders played the first six games of the 2022 season but got injured. Overall, he played eight games, won two, and lost five. He threw for 1,755 yards, 11 touchdowns, and had nine interceptions. He had nine interceptions last season.
ADVERTISEMENT
Article continues below this ad
WATCH THIS STORY – Back Home Where He Belongs: NFL Fans Couldn't Keep Calm After Patriots Make Tom Brady Return Announcement Official.
The 30-year-old quarterback had a difficult year as a starter in the NFL. He was drafted second overall in 2016, traded to the Indianapolis Colts in 2021, and then to the Washington Commanders in 2022. However, he was released in February and is currently unsigned. Despite his challenges, he has had notable achievements throughout his career, including winning the Super Bowl in 2018 and receiving Pro Bowl and All-Pro honors in 2017.