Chicago Bears Head Coach Matt Nagy Gives Bizarre Explanation for Compliance with NFL Taunting Rules
Published 11/19/2021, 5:50 AM EST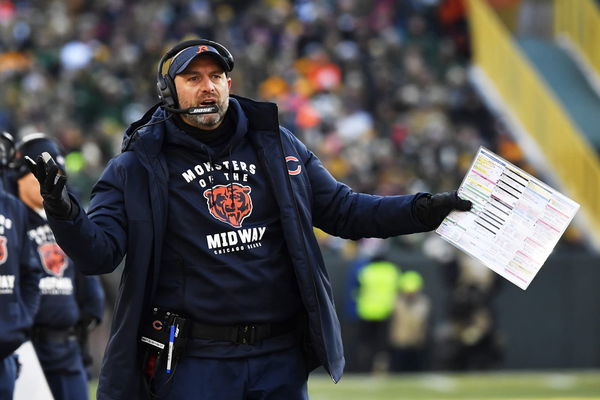 ---
---
Chicago Bears head coach Matt Nagy fell prey to a controversial taunting call by the referee Tony Corrente on linebacker Cassius Marsh leading to an undesirable 29-27 loss against the Steelers on Monday last week.
ADVERTISEMENT
Article continues below this ad
Although the NFL community criticized the call to be inappropriate, the NFL backed it up by fining the player over $5000. However, Nagy turns out to be in full agreement with the league's taunting rules, and he gives a pretty strange explanation for that too.
ADVERTISEMENT
Article continues below this ad
Chicago Bears head coach on the NFL taunting emphasis
"It's an exciting game," coach Matt Nagy said. It's a game that's very emotional. But there are times that some people are egregious with celebrating and it can be over the top. And I think probably the biggest message is, let's calm this down a little bit because people watch and people want to see a little bit of respect. A little bit of doing things the right way."
"It doesn't mean you can't have fun," he added. "But there's young kids right now that are watching games, and what happens is you go to one of these sporting events and you might see some imitation going on that's taking it over the top. I'm a firm believer in respect and just kids growing and watching and we have a huge platform as leaders. I'm talking players and coaches."
"Let's understand what the rules are. Let'd do it the right way. Let's still have fun — these guys are still having fun and not taunting. You can still have a great time. But let's stay within the rules as we do it."
It is surprising to hear such statements from a player who has been at the wrong end of the most controversial taunting call to date.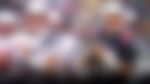 Matt Nagy complies with the taunting rules despite the loss
Nagy, the father of four, used the example of how young football players imitated the 2014 one-hand grab of Odell Beckham Jr. instead of using both hands just because they were influenced by the adulation of that move.
The Bears head coach did not mention the call made on his linebacker on Monday night's loss when asked on Wednesday. Although he said that it's up to the players and the coaches to abide by the legalities.
ADVERTISEMENT
Article continues below this ad
The NFL not only stands behind Monday night's controversial taunting call against #Bears LB Cassius Marsh — the league informed Marsh on Friday he's being $5,972 for unsportsmanlike conduct, per sources.

— Tom Pelissero (@TomPelissero) November 13, 2021
"I think that it's our job to do it the right way," he said. "And every one of these levels that you talk about in this game right now with the taunting rule has its levels to it. And if there's gray, you've got to understand the rule. Now I've got to do my job to teach that to the players so that they understand it and understand that these are rules, we can't change that."
ADVERTISEMENT
Article continues below this ad
Following his defeat on Monday, Nagy did mention that the coaches and players need to be aware of the grey area and take decisions based on it. Though NFL putting emphasis on taunting calls this season, they have been very inconsistent in their approach.