Champion Wishes: Super Bowl LVI Champs Matthew Stafford and Andrew Whitworth Visit NASCAR Driver Chase Elliott to Wish Him Luck
Published 03/01/2022, 7:00 AM EST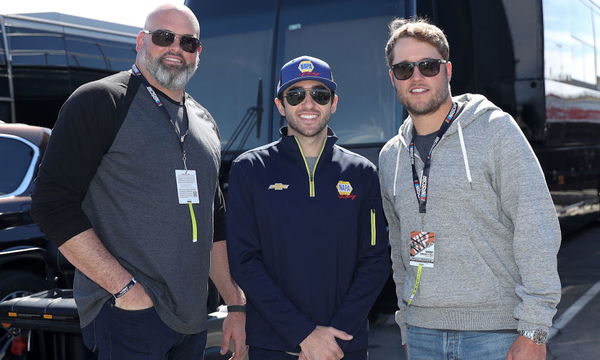 LA Rams and Matthew Stafford had a picture-perfect NFL season in 2021. They became the Super Bowl champs for the first time since moving the franchise to Hollywood. The journey culminated with a rocking parade in LA.
Since then, the Rams' players unsurprisingly have become the talk of the town. Recently, two of the Rams' biggest stars used their freed up Sundays to catch some race car action. Quarterback Matthew Stafford and legendary Left Tackle Andrew Whitworth were seen at the Auto Club Speedway in Fontana, California.
ADVERTISEMENT
Article continues below this ad
Both of them admitted that playing other sports was their priority growing up. And NASCAR just was not one of them. But later on, they got exposed to the unique sporting event and found it interesting like many others.
Matthew Stafford & Andrew Whitworth at NASCAR
The two NFL stars were at the NASCAR Cup Series as honorary guests. Although they were technically there for everyone, their loyalties remained with Georgia NASCAR star, Chase Elliott. Chase has been one of the most exciting NASCAR drivers in recent history.
Elliott is the youngest championship winner in the series. He won the title in 2014 as a rookie. He drives for Hendrick Motorsports with the Number 9 car.
It was fascinating to see the two sports crossing over for a day through their players. Stafford also explained his connection to the sport. He said, "You know, it wasn't a huge thing for me." 
The Super Bowl Champ further added, "I was playing some of the other sports, but when I was in college I went to a Talladega race once or twice and fell in love with it there. It was a lot of fun. I love the atmosphere. Every race I've ever been to or watched on TV has been really exciting. I have got a lot of respect for these drivers and these teams. It's a really cool unique sport."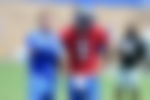 It is difficult to keep up with other sports while you're trying to professionally make it in one. But once you taste a little bit of the adrenaline that watching motorsports provide, there's mostly no going back.
ADVERTISEMENT
Article continues below this ad
Once you go NASCAR track, you never go back!
Even the legendary left tackle, Whitworth talked about his connection to the game and how he came about to like it.
"I really wasn't, I didn't know as much about NASCAR growing up in Lousiana…I watched it from time to time and followed some of the bigger names. My first time to ever go to a race was actually with my wife Melissa. It was our second date I believe. We went to Talladega, she was a news anchor at the time and went to cover the race and I got to go. It was an amazing experience and something I'll never forget. It was really cool."
ADVERTISEMENT
Article continues below this ad
The LA Rams brought Super Bowl glory to LA. It was a well-fought battle to be titled champions, and these off-script outings for the champs are part of the extended victory celebration.
Watch This Story: Chase Elliott Rants Against Stupid Motherf*cker Kyle Larson at Fontana