Chicago Bears' Roquan Smith Performs Heartwarming Gesture for Fan Who Returned His Touchdown Ball
Published 09/23/2021, 2:13 AM EDT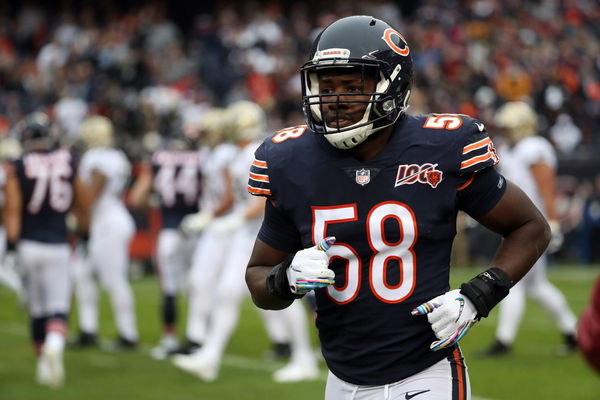 ---
---
On Sunday, Chicago Bears linebacker Roquan Smith scored his first NFL touchdown by returning a Joe Burrow interception 53 yards for a score. After scoring, the linebacker went into a wild celebratory mode with his teammates.
ADVERTISEMENT
Article continues below this ad
Smith threw the ball to a fan in the end zone while celebrating his personal milestone. The linebacker at that moment decided to let the fan keep the ball, even though he later realized he wanted it as a souvenir. His statement of him wanting the ball back made Courtney Fong, the fan who had the ball, go all the way to Halas Hall and return the ball back to the quarterback.
ADVERTISEMENT
Article continues below this ad
Roquan Smith wished he had kept the ball with him
Right after the match, the Chicago Bears player expressed his disappointment in not keeping the ball. "In the moment, I wish I would have kept it, but I'm sure it made his year," Smith said. When Smith was asked if he planned to make an effort to recover it, he replied, "Nah. I'll just hang onto the jersey as a memento of the experience. As long as I can brighten the day of the guy who found the ball, that's fine with me."
Hearing this, the Chicago Bears fan immediately went on Twitter to connect with the team and Smith to return the ball. Courtney Fong tweeted, "Yes, @RoquanSmith1 @ChicagoBears you made my year. It was great to be home. Let's connect so I can be the second to return your first NFL TD. #Bears"  
"I had to give it back" – Fan returns Chicago Bears' Roquan Smith's TD ball
ADVERTISEMENT
Article continues below this ad
"I knew right away I had to give it back because that was special," Fong said on The Hoge & Jahns Podcast Tuesday morning [Timestamp 22:27]. "He kind of regretted it. He was trying to be gracious — he was gracious for it — and at that moment I knew, just trying to figure out what to do next."
"(Smith) crosses the goal line and you know it's done. He's got all the energy. We lock eyes and he sees me and, like he said, in the exchange, the excitement of the moment, he tossed it to me," Fong said. "I was down there, reaching over, and it's not like I didn't want the ball, so it was really cool when he gave it to me and they went off to celebrate. Just some euphoria thereof receiving it that way." After receiving the ball, the Chicago Bears and Smith gifted the team merchandise to Courtney Fong.
ADVERTISEMENT
Article continues below this ad