Former NFL Player Gives Personal Account of His Experience With 'Hip Check' Referee Tony Corrente
Published 11/11/2021, 4:48 AM EST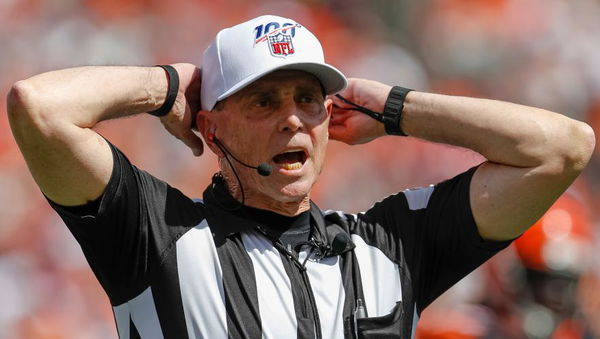 ---
---
During Chicago Bears vs Pittsburgh Steelers' Monday Night Football game, we witnessed something bizarre. Not only was a terrible taunting call made, but referee Tony Corrente 'hip checked' a player and called a foul. The NFL world rose in anger against Corrente, including a former NFL player who has his own story to tell.
ADVERTISEMENT
Article continues below this ad
Chris Simms narrates personal encounter with Tony Corrente
ADVERTISEMENT
Article continues below this ad
Chris Simms is a former quarterback who played for Tampa Bay Buccaneers, Tennessee Titans and Denver Broncos. He even went on to coach New England Patriots for a year, which means he worked with Tom Brady. His father, Phil Simms, is a two-time Super Bowl winner with New York Giants and his brother also played in the NFL.
Appearing on NBC Sports' Pro Football Talk, Simms narrated an incident involving him and Tony Corrente. This personal account details how Corrente gets personal during games and often controls the outcome. It only goes to show that referees like him have no place in the NFL.
"I've seen Tony Corrente get personal to people on the field before. I've experienced it, I've seen it. I don't mean to go after the guy, but I'm going after the guy." Simms then narrated, "I got hit late in a San Francisco game. I threw the ball, I'm taking like four steps and I'm looking up in the stands, then I get cracked in the ear-hole. And I get up and I'm like, 'That was a late hit!' And I might have said the 'F' word too. It was third down, so then I run off the field."
"Usually when you come back from commercial break and stoppage time, the referee kind of gives the quarterback a kind of warning, like 'Hey, call your play I'm about to blow the whistle.' He's not doing anything to me. Now we've gone through three commercial breaks, a quarter break and he's just blowing the whistle while we're all just standing around waiting for things to go, and he's just starting the clock. So finally I go, 'Are you going to warn me before you start the clock again? Usually that's protocol.' And he just goes, 'Are you going to apologize to what you said to me earlier?'
Simms calls Corrente a liar
ADVERTISEMENT
Article continues below this ad
The incident highlighted by Simms only goes to show how egregious the situation with officiating is in the NFL. Referees like Tony Corrente do not portray the NFL in the best light, making it one of the most mocked sports in the world. It goes without saying, things like these would not fly in the English Premier League or another major sports league.
"I wanted to lose my crap, and after the game, I wanted to call him out. If we won, I probably would have. But he just showed me, he was going to get personal, he was going to take the game into his own hands there. I don't buy any of it." Simms continued, "I don't buy his answer. I'm calling him a liar, I don't really care. I don't buy it."
ADVERTISEMENT
Article continues below this ad
Will the NFL take some significant action against Corrente? Will we see the now black-balled referee officiate another game in the NFL? Stay tuned to know more.