Cincinnati Bengal's Franchise Altering QB Joe Burrow Claims to Be The 'Lebron James' of Southeast Ohio
Published 05/19/2022, 9:30 AM EDT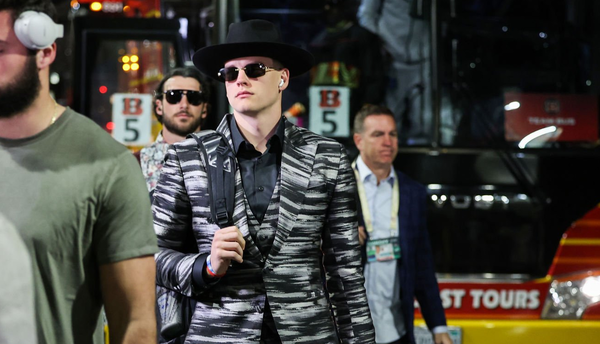 The phenomenal Cincinnati Bengals quarterback Joe Burrow has always been an active athlete. During his high school years, Burrow also played basketball alongside football. The current NFL superstar claims that he was one of the best in his basketball league. Burrow would also go as far as to compare himself with LeBron James. 
The Bengals quarterback always oozes machismo. He never lacks confidence. So it comes as no surprise that he would compare himself to the King. James has always been one of Burrow's idols. But was he actually as good as LeBron James?
ADVERTISEMENT
Article continues below this ad
Joe Burrow claims to be the LeBron James of his basketball league
Joe Burrow recently made an appearance on the FULL SEND PODCAST. Seeing Burrow talk and be candid about things is a rare treat for the fans. Although the quarterback loves football, he is not a big fan of the attention. So we do not usually get the opportunity to hear him speak. 
During the podcast, Burrow revealed that he played baseball and basketball along with football while growing up. Being from an upper-middle-class family, Joe was provided with everything he needed to succeed. The athlete said that if he wanted, he could succeed in basketball and play somewhere.
Bob Menery of the FULL SEND PODCAST asked Burrow what position he played in? The current Bengals QB replied, "I was kind of a LeBron of my little league." He continues, "We didn't exactly have the stiffest competition, but I– the LeBron of Southeast Ohio." The Joe Burrow and LeBron James saga is nothing new. The QB has followed the career of King James for a long time. He even welcomed James to Cleveland while wearing a tight jersey at a point.
ADVERTISEMENT
Article continues below this ad
It seems like, according to him, Burrow was pretty good at basketball. He claims that he can shoot some hoops. At one point during his high school, Joe almost quit football to focus on basketball. It would have been interesting to see him throw the ball in the NBA. 
Why did Burrow choose football over basketball?
ADVERTISEMENT
Article continues below this ad
Later on in the podcast, Joe Burrow talked about having an amazing sophomore season. He was one of the best during his time at LSU. While playing in college, Burrow realized that he can be really good at football. So the first-round NFL draft pick made a full-time commitment to the game. It seems like the right call. 
Watch This Story: The House of LRC: Russell Wilson and Ciara Set to Open a New Fashion Store in Denver