Cincinnati Star Joe Burrow Loves Owning Lamar Jackson's Baltimore Ravens; Reveals Why
Published 05/22/2022, 2:21 PM EDT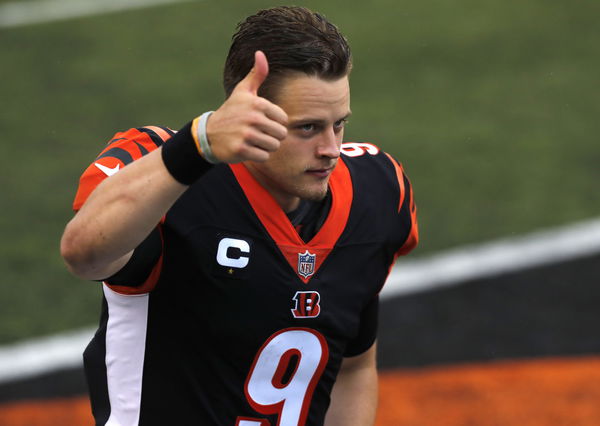 The AFC North is one of the most sought divisions, with teams contending for the Super Bowl. Amongst them, the Joe Burrow-led Cincinnati Bengals and Lamar Jackson-led Baltimore Ravens are the favorites. In a recent podcast, Joe Burrow opened up about his intentions and flared up the epic rivalry against the Ravens for the upcoming season.
No doubt, the 25-year-old LSU alumnus is in the front seat. The Bengals slew the Jackson-led side last season with some real gameplay and won both games with a great margin. They registered a thumping victory 41-17 at home in Week 7 and 41-21 while playing at Baltimore in Week 16 last season.
ADVERTISEMENT
Article continues below this ad
Thus it was a great boost for Burrow to play in his second year, being able to mend one of the top contenders with Lamar Jackson as the opposition.
While speaking at the Full send Podcast, Burrow was asked about his thought process when he will face the Ravens, given they have an upper edge in terms of records. He said playing against the divisional rival is always fun because they tend to talk a lot of trash and heat the game even more.
"I love playing the Ravens because they talk," Burrow said. "They talk. I love that. . . . [The score] was a lot to a little. I threw for 520-something in the second one and I threw for 400-something in the first one. Ja'Marr had like 260-something yards the first game. Yeah, I love playing the Ravens. They like to talk. I don't start the talking, but I usually — if somebody pokes me, I can talk a little bit." Burrow said in the podcast.
Joe Burrow certainly had a good scoreboard against the Baltimore Ravens
ADVERTISEMENT
Article continues below this ad
As soon as Burrow made his intentions clear, his former LSU teammate and Ravens linebacker Patrick Queen reacted to his statement. "Noted," he wrote on Twitter. It seems Patrick is willing to give an answer on the field and seek revenge for their last year's frustrating loss. While Burrow outplayed the Ravens in both the games, he didn't forget to pile up the records for himself.
The star quarterback threw for 416 yards and registered three touchdowns during their first meet and 525 yards with four touchdowns in the second face-off last season. Even though he conceded two interceptions, Burrow recorded his highest number of career touchdowns (seven) against the Baltimore Ravens.
ADVERTISEMENT
Article continues below this ad
Entering the third season of his career, Joe Burrow will meet the Ravens in Week 5 and later in Week 18 of the 2022 campaign. Expectations are high for the youngster. However, Lamar Jackson is equally capable and won't keep his mum on the field.
Watch This Story – Tom Brady Spills His Secret to Stay Healthy; Shares 6 Simple Steps
Edited By: Deepika Bhaduri