Baker Mayfield Sends Twitter Into a Frenzy After UFO Sighting Claims
Published 03/04/2021, 6:46 AM EST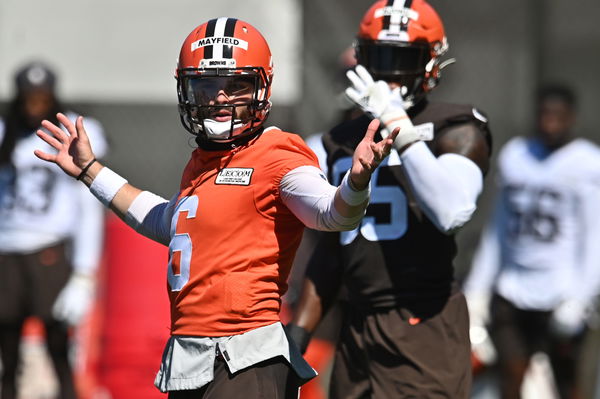 ---
---
Baker Mayfield led the Cleveland Browns to the NFL Playoffs in 2020. The AFC North franchise ended their regular season campaign with an 11-5 record.
ADVERTISEMENT
Article continues below this ad
They finished 3rd in their division behind the Lamar Jackson-led Baltimore Ravens. However, they still secured a Wild Card Playoff berth.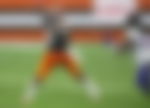 They went on to upset rivals Pittsburgh Steelers with a 37-48 win. But their season came to an abrupt halt in the Divisional Round. Mayfield and Co. bowed out with a humbling 27-17 loss to Super Bowl LIV winners, Kansas City Chiefs.
ADVERTISEMENT
Article continues below this ad
The 3rd-year quarterback ended the 2020 NFL season with 3,500+ passing yards and 26+ passing TDs against 8 interceptions. He is expected to return as starting quarterback for Kevin Stefanski's side in 2021.
However, in the meantime, Mayfield seems to be enjoying some time off from the field.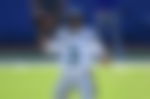 After Pentagon, Baker Mayfield confirms UFO sighting in the States
Baker Mayfield is known for his wacky commercials and outspoken attitude. His brazen personality is what divides Browns fans at times.
Some claim his arrogance will be his downfall while others compare him to other outspoken players such as Tom Brady, Marshawn Lynch, Dez Bryant, and even Browns teammate Odell Beckham Jr.
Almost 100%, Em and I just saw a UFO drop straight out of the sky on our way home from dinner… we stopped and looked at each other and asked if either of us saw it… Very bright ball of light going straight down out of the sky towards Lake Travis. Anybody else witness this?

— Baker Mayfield (@bakermayfield) March 4, 2021
Once again, Mayfield has made headlines for unconventional reasons. The 25-year-old took to Twitter on Wednesday night to report a potential UFO sighting while he was on his way home from dinner along with his wife Emily Wilkinson.
As per his recollection, Mayfield saw a 'bright ball of light' shoot down the sky near Lake Travis in his hometown of Austin. Expectedly, Twitteratti had a field day with this and social media went berserk with some insane Baker Mayfield memes.
Here are some interesting fan reactions to Mayfield's recent tweet
I believe you man..BECAUSE I SAW IT TOO!

In fact, they actually communicated an urgent message to me telepathically!🛸

They said that you should sign a fair (but team-friendly) 5 year extension that allows enough salary cap space to secure solid free agents while you're here.👽

— Mike Polk Jr. (@mikepolkjr) March 4, 2021
Of course, fans were quick to bring in Colin Cowherd (a stern critic of Mayfield and popular talk show host) memes.
ADVERTISEMENT
Article continues below this ad
"I just don't like my franchise quarterback having alien encounters in the offseason. You know where you don't have UFO sightings? The film room. Why do you think you don't hear Tom Brady going X-Files? He's watching tape. I mean, cmon Baker." pic.twitter.com/aDQtivROyM

— McNeil (@Reflog_18) March 4, 2021
Alien enthusiasts will be aware that Ohio has a rich history of UFO sightings. Almost 50 years ago, a small-town policeman from the city chased a flying saucer into Pennsylvania.
ADVERTISEMENT
Article continues below this ad
Last week, an American Airlines pilot also reportedly saw a cylindrical-shaped object resembling a missile or UFO on the Texas-New Mexico border. Do Mayfield and his better half need to re-evaluate their choices for supper, or is there something deeper at play here?