Cleveland Browns Injury Report: QB Baker Mayfield and HC Kevin Stefanski Sidelined
Published 12/16/2021, 7:37 AM EST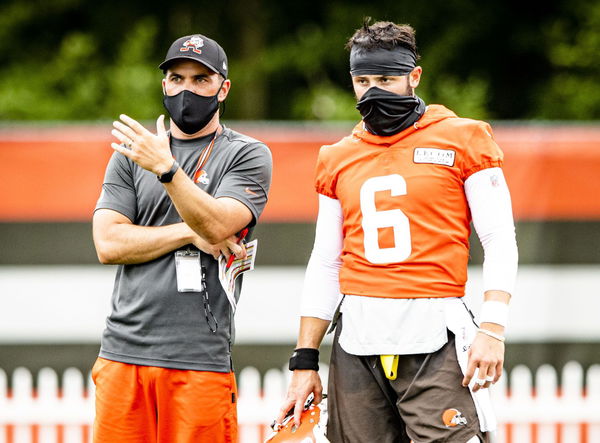 ---
---
Baker Mayfield has tested positive for COVID-19. Losing their quarterback at this point of the season is bad news for the Cleveland Browns. Their hopes of making it to the playoffs are hanging on by a thread. They could be starting their next game against the Las Vegas Raiders without Mayfield. 
ADVERTISEMENT
Article continues below this ad
Are Baker Mayfield and head coach Kevin Stefanski out for week 15?
The Cleveland Browns need to improve their health protocols as it has only worsened recently. On Tuesday, they moved eight players to the injury reserves. This Wednesday, they revealed that the head coach Kevin Stefanski and star quarterback Baker Mayfield have been tested positive. 
ADVERTISEMENT
Article continues below this ad
The announcement of head coach Stefanski, contracting the virus, came first. The Browns informed everyone that Stefanski along with the running backs coach Ryan Cordell tested positive for COVID-19. As soon as the test results came in, both the coaches were isolated. They would be allowed to talk to their teams through virtual meetings. We do not know how helpful it will be ahead of their week 15 fixture in the FirstEnergy Stadium.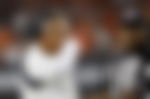 The head coach has been infected for the second time. Stefanski was out for the Pittsburgh Steelers game in the last playoffs as well. After that, he has been fully vaccinated, but unfortunately, he caught the virus again. Baker Mayfield, on the other hand, has also been fully vaccinated. But after the current tests, he fell victim to the hideous virus. He cannot participate in the next game unless he tests negative twice.
ADVERTISEMENT
Article continues below this ad
The list of COVID-positive Cleveland Browns players is getting long. They need to get a grip of their health and safety departments for the wellbeing of their players and staff. Currently, the week 15 fixture against the Raiders has not been postponed. They will play it on Sunday. The Browns might have a troublesome time putting up a good team. 
Browns recent performance
ADVERTISEMENT
Article continues below this ad
The Cleveland Browns had a pretty decent season so far. Their record is 7-6. They had two back-to-back games with the Baltimore Ravens. They lost the first bout in week 12 by 16-10. But the Browns were able to bounce back in the next game as they defeated the Ravens with 24-22. It was a close game, but they managed to pull it off. Currently, they are just one win behind the Ravens to take over the AFC North table. There are pretty good chances that we will see the Cleveland Browns in the playoffs.