"They Are Trying To Clone Me" – Myles Garrett Hilariously Reacts To 'Random' NFL Drug Testing
Published 10/23/2021, 1:52 PM EDT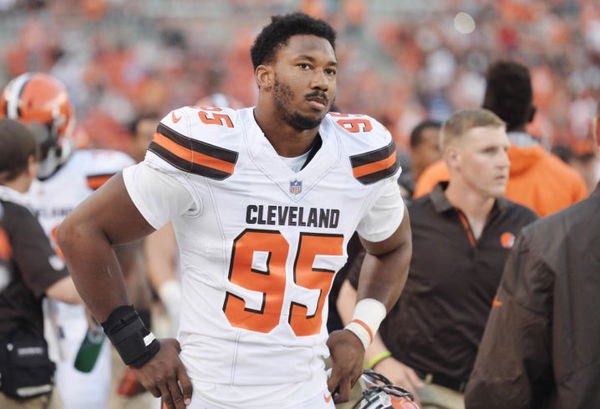 ---
---
Cleveland Browns' Myles Garrett is arguably amongst the most feared pass rushers in the NFL today. The defensive star has eight sacks in six games for the Browns. He is undoubtedly a major reason Cleveland's defense is 3rd in the NFL in sacks with 18.
ADVERTISEMENT
Article continues below this ad
In a sport as physical as the NFL, good performances sometimes lead suspicion to doping. Something similar has happened with Myles Garrett. Garrett in a span of six games has been asked for a random drug test for the second time. Garett clearly was not impressed by it and took to Twitter to let his feelings out in a hilarious fashion.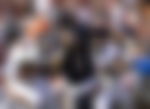 Garrett ditches sleeves as he is frustrated by 2nd drug test in six games
ADVERTISEMENT
Article continues below this ad
When you perform exceptionally well in sport, a constant plea for a drug test in a short span is certainly frustrating. A couple of days ago, Myles Garrett took to Twitter to share his frustration on his second random drug test. Being the funny guy he is, he chose to look at the funny side of this fiasco. He blamed his sleeves for the tests.
Coincidentally, the two times he has been asked to give the test, he had worn sleeveless jerseys. "I go sleeveless TWO TIMES and get "randomly" drug tested BOTH times… I'd try 3 for 3 but they can miss me with the blood draw, not the vibe. #SleevelessMyles is retired", he tweeted.
Myles Garrett hilariously reacts to his 2nd "Random" drug test message on Twitter
After his first post getting inane traction on social media, Garrett had a go at the topic once again last night. He shared a screenshot of the message asking him to appear for the "random" drug test last night with the caption "Yeaaa they are trying to clone me".
ADVERTISEMENT
Article continues below this ad
Once again, Garrett looked at the funny side of things as he accused the NFL of attempting to clone him, as they have been asking for his blood for an abnormal number of times in a short time period. Never change Myles!
ADVERTISEMENT
Article continues below this ad
Is Myles Garrett being deliberately targeted by the NFL? Let us know!