Colin Kaepernick Throws a Dynamite Pass at Michigan's Maize, Video Goes Viral
Published 04/03/2022, 5:30 PM EDT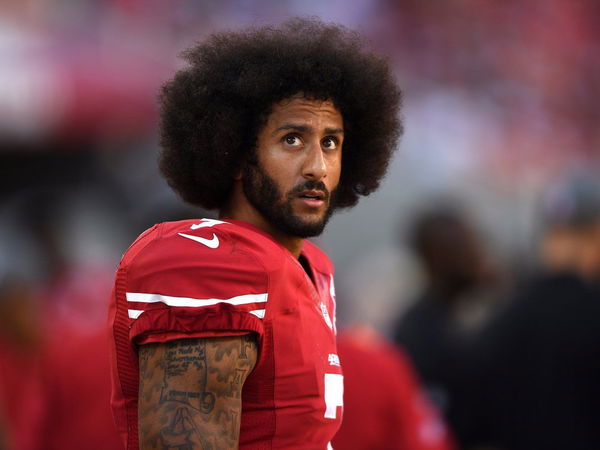 Colin Kaepernick, the former San Francisco 49ers quarterback, is on the path of resurrection. Despite staying away from the game for the past five seasons, it seems like, the QB hasn't lost his flair for throwing deep passes.
On Saturday, Kaepernick participated in a throwing exhibition during halftime of a spring game in Ann Arbor. He launched an effortless monstrous pass deep down the field, attracting the attention of scouts present at the stadium.
ADVERTISEMENT
Article continues below this ad
Kaepernick at the Michigan stadium
The athlete-turned-activist was named the honorary captain for Michigan's annual Maize and Blue spring game on Saturday. He was present at the stadium to exhibit his unwavering skills in a 15-minute throwing workout.
The sole motto of the exercise was to seek the attention of NFL scouts present in the stadium. Interestingly, Kaepernick didn't fail to surprise the spectators by throwing long passes effortlessly across the field. The one he threw at the end caught everyone's attention. It was an effortless bomb by the veteran.
Even though he hasn't ventured into the league, his throwing hands were in full swing, making him a perfect fit for the teams to make a choice. The former Niners QB is desperately attempting to return to the pro-football league and is carrying out various workout regimens with professional athletes nowadays. The Seattle Seahawks were speculated to be the one showing interest in the quarterback. But, no updates have been unveiled on the matter so far.
Colin Kaepernick is an exceptional talent
While everyone is sidelining the former quarterback, it is to be noted that Kaepernick was one of the fittest QBs available in the league. His first step into the NFL was through the San Francisco 49ers. The team selected him in the second round of the 2011 NFL draft, and he catered his services till 2016 before getting mired in several controversies.
ADVERTISEMENT
Article continues below this ad
He became a social activist catching the top headlines several times for his activities. In 2019, the NFL committee asked him to get back to the game and encouraged the teams to find a spot for emerging talent.
Today, Kaepernick is wandering for a spot inside the NFL; be it any team, he is ready to take the chance. Surprisingly, he is even ready to accept a backup QB role if that's what it takes to facilitate his entry into the NFL.
ADVERTISEMENT
Article continues below this ad
In his voyage, Jim Harbaugh, former coach of Niners, informed CBS sports' Josina Anderson to help him get back where he lies. Well, the time will show, what's ahead for the QB; if he can make it into the roster. One thing is for sure; the QB has still something left in him to showcase in the grand league of football.
Watch This Story – Tom Brady Spills His Secret to Stay Healthy; Shares 6 Simple Steps
Edited By: Deepika Bhaduri