"Couldn't Be More Disappointed"- NFL Analyst BLASTS Washington's Dwayne Haskins Jr. for Off-the-field Transgressions
Published 12/27/2020, 2:10 PM EST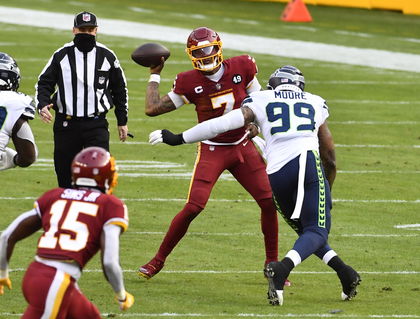 ---
---
The Washington Football Team reprimanded Dwayne Haskins Jr. for his off-the-court actions. Haskins was at an event with exotic dancers, not wearing a mask. The Washington Football Team fined him $40,000 and removed him as a team captain for the team.
ADVERTISEMENT
Article continues below this ad
NFL analyst Louis Riddick spoke on Get Up about the Haskins incident. Riddick was stern about how disappointed he was by Haskins' actions.
"I couldn't be more disappointed, to be perfectly honest with you. This is a guy who I have had a lot of hope for. I've put a lot of support behind.
ADVERTISEMENT
Article continues below this ad
"Because I do think he is a wonderful talent as far as playing quarterback is concerned. But something is not right as far as the choices he is making, the attention to detail he is administering in his career, and how this is all meshing together."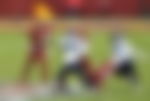 Riddick spoke about how critical he has been of Haskins in the past, but maintained that he still admired him as a player. "Look, I admit I have been very critical of the organization itself in terms of how they arrived at the decision to draft him and subsequent support, or lack thereof, they have put behind him. And I think that has been well documented on my behalf." 
For Riddick, he believes that Haskins flouted his responsibilities and should have taken his career and his team into consideration when placed in such a dangerous situation.
Dwayne Haskins Jr. was irresponsible
"But these kinds of decisions right here, at this point in time in the season, given the landscape that we are dealing with from a societal perspective, are just unexcusable.
"You have been given an opportunity to play again because Alex (Smith) is hurt and your team is in the thick of the playoffs hunt. You're a captain. You know that you have a lot of scrutiny on you because of things that have happened before."
Riddick expressed his disappointment toward Haskins, especially given how many expectations people have of him.
ADVERTISEMENT
Article continues below this ad
"And the fact that you are a black quarterback and people are going to hold you to a higher standard whether you like it or not.
"And you still make these kinds of decisions knowing you are putting yourself at risk, your teammates at risk, everyone that is around you at risk and you still make that kind of decision." 
He added, "It is just unfathomable to me that you can do that, and it is very disappointing. I'm hoping that this is something he can learn from because his future to me is not going to be in Washington. This is extremely, extremely disappointing for me."
ADVERTISEMENT
Article continues below this ad
It remains to be seen whether Haskins Jr. can redeem himself after this latest transgression. He must accept full responsibility for the reckless behavior he displayed.