'Cursing Tom Brady?'- New England Patriots Coach Steve Belichick Breaks The Internet With Bizarre Facial Expressions
Published 10/05/2021, 4:54 AM EDT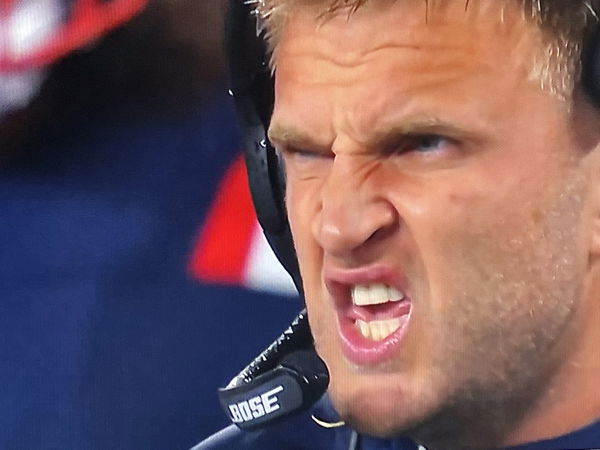 ---
---
New England Patriots took on Tampa Bay Buccaneers in the biggest game of the season. While Tom Brady ruled headlines, breaking records and sliding past his former team, the GOAT had an eventful weekend. However, there was one more individual at Gillette Stadium who had an equally eventful day: Steve Belichick.
ADVERTISEMENT
Article continues below this ad
New England Patriots' Steve Belichick makes a bunch of bizarre faces
ADVERTISEMENT
Article continues below this ad
Steve Belichick is the outside linebackers coach for the New England Patriots. His father, Bill Belichick, is the head coach of the Patriots, and he's a pretty big media antagonist. However, Steve was in the public eye during the Patriots fixture against the Tampa Bay Buccaneers for a bizarre reason.
Cameras focused on Belichick, making a bunch of weird yet hilarious expressions. One particular clip shows Steve showing off some weird tongue movement, and many claiming he was attempting to put a curse on former Patriots quarterback Tom Brady. Unfortunately for him, the curse turned into a boon for trolls, and Twitter had an absolute field day with it.
The Bucs weren't at their brilliant best against the New England Patriots this weekend. They struggled to get out of the blocks, and though it wasn't thanks to Steve Belichick's antics, we can say he did a pretty good job at his coaching role. Tom Brady and his unit were strapped for yards, while Mac Jones and his unit put on a stellar attacking showcase.
ADVERTISEMENT
Article continues below this ad
ADVERTISEMENT
Article continues below this ad
Mac Jones outclassed Tom Brady last Sunday, but unfortunately ended up on the losing end. Tampa Bay's defense absolutely routed any hopes of a third touchdown for Jones, who once again suffered too many sacks. In order to kill it in the rest of the season, he will have to be quicker and avoid being sacked.