Dak Prescott Doubtful Against Minnesota Vikings; Cowboys May Start Cooper Rush
Published 10/31/2021, 2:43 PM EDT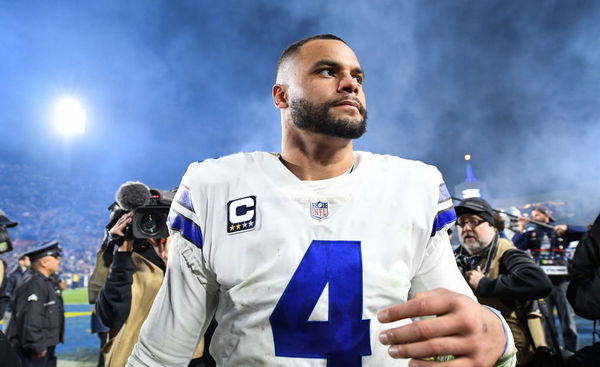 ---
---
Dak Prescott during his week 6 win against the Patriots picked up an unfortunate injury, which he noticed after the game ended with him throwing a touchdown pass in the final play of the game to receiver CeeDee Lamb.
ADVERTISEMENT
Article continues below this ad
A punishing pain emerged while he was walking off the field and Ezekiel Elliott was seen assisting the quarterback back to the locker room. That was certainly a sign of distress for the Dallas Cowboys.
ADVERTISEMENT
Article continues below this ad
Dak Prescott still questionable against Minnesota Vikings
However, Prescott later revealed, "I'll be fine, I promise you that," to Jon Machota of The Athletic. And since the Cowboys were on a bye during week 7, the quarterback had plenty of time in his hand to fully recover from his tweaked calf.
But with week 8 closing in minute by minute, Dak Prescott is still listed as "questionable" ahead of his clash against the Minnesota Vikings. Head coach Mike McCarthy will not be taking any chances in putting the star QB at risk, and he will only let Prescott play only if he is reported to be 100% fit. "He's got to cross the threshold to make sure he's full-go," McCarthy said.
Cooper Rush stepping in as the starting QB for Dallas Cowboys
ADVERTISEMENT
Article continues below this ad
With a 5-1 run so far this season, the Cowboys are in a very stable and respected spot. And any injury to Prescott would shatter all the hopes of the franchise to make the playoffs. So if Prescott feels even a slight twinge on his calf, he will not be starting for the Cowboys. Instead, his place will be taken by Cooper Rush.
Cooper Rush took most of the first-team reps in practice this week. And the Cowboys' backup quarterback has spent most of his five-year NFL career with the Cowboys, so he knows the team like the back of his hand. However, Rush has never started an NFL game.
ADVERTISEMENT
Article continues below this ad
Rush has completed just 1 of 3 career regular-season passes for 2 yards. He also has two carries for 13 yards. However, he did play up to his potential during the 2021 NFL preseason as he completed 63 percent of his passes for 272 yards and two TDs.