Jerry Jones Dismisses Talk of a 'Leadership Void' at Dallas Cowboys
Published 10/28/2020, 12:50 PM EDT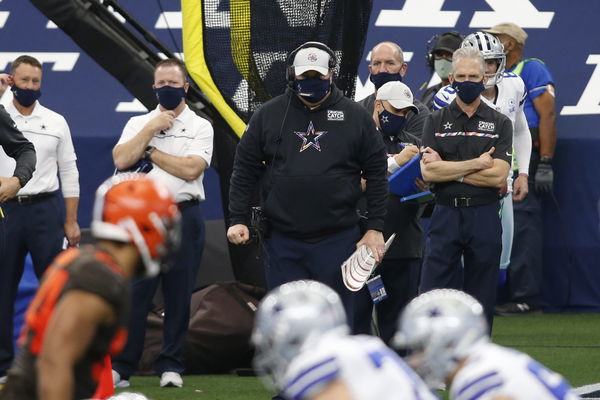 ---
---
After a busy offseason, the Jerry Jones-owned Dallas Cowboys looked like one of the stronger teams heading into the 2020 NFL season, at least on paper.
ADVERTISEMENT
Article continues below this ad
The addition of veteran NFL Head Coach Mike McCarthy was also seen as a positive sign by Cowboys fans. The acquisitions of promising rookies Trevon Diggs and CeeDee Lamb also served as a morale boost.
However, fast forward to October and you'll see a completely different picture. A disappointing opening game, under-performing defense, and a season-ending injury to Dak Prescott have ruined Mike McCarthy's debut season with the Cowboys.
ADVERTISEMENT
Article continues below this ad
The NFC East side is on a 2-5 record heading into Week 8. They might be without backup quarterback, Andy Dalton, who suffered a concussion in Sunday's 25-3 loss to the Washington Football Team.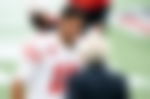 Jerry Jones gets defensive after Dallas Cowboys lose yet again
Despite everything going against him and his team, Cowboys' boss Jerry Jones is not ready to kick off the 'blame game' just yet. Jones made his weekly appearance on 105.3 The Fan and was asked to comment on a rumored 'leadership crisis' within his organization. Let's just say, he did not welcome that remark as he retorted with anger.
"Just shut up and let me answer it. No, I gave you the answer. When I go into the locker room, there's no leadership void in my eyes. Now that's your answer. Move on," Jones remarked.
Of course, he calmed down later on during the show and apologized for his 'abrupt' comments. "This certainly isn't my most tactful time, you might say.
"I'm disappointed for our fans…I can't tell you how disappointed I am. There's an old adage. Don't piss an old man off with little money. He'll get you," Jones added.
Jerry Jones tells @1053thefan "I got my man" when asked about HC Mike McCarthy. Wanted someone that "in case you know what hit the fan" could stand strong

— Jane Slater (@SlaterNFL) October 27, 2020
ADVERTISEMENT
Article continues below this ad
The 78-year-old American businessman maintains that his support is still with their Head Coach, Mike McCarthy. The Cowboys slipped to 3rd in the NFC East Division table after Sunday's loss to Washington.
They take on the Carson Wentz-led Philadelphia Eagles in Week 8 before hosting the currently unbeaten Pittsburgh Steelers a week later.
ADVERTISEMENT
Article continues below this ad