"Dak Prescott is Deserving of Anything"- Jerry Jones Rallies Behind 'Franchise' Quarterback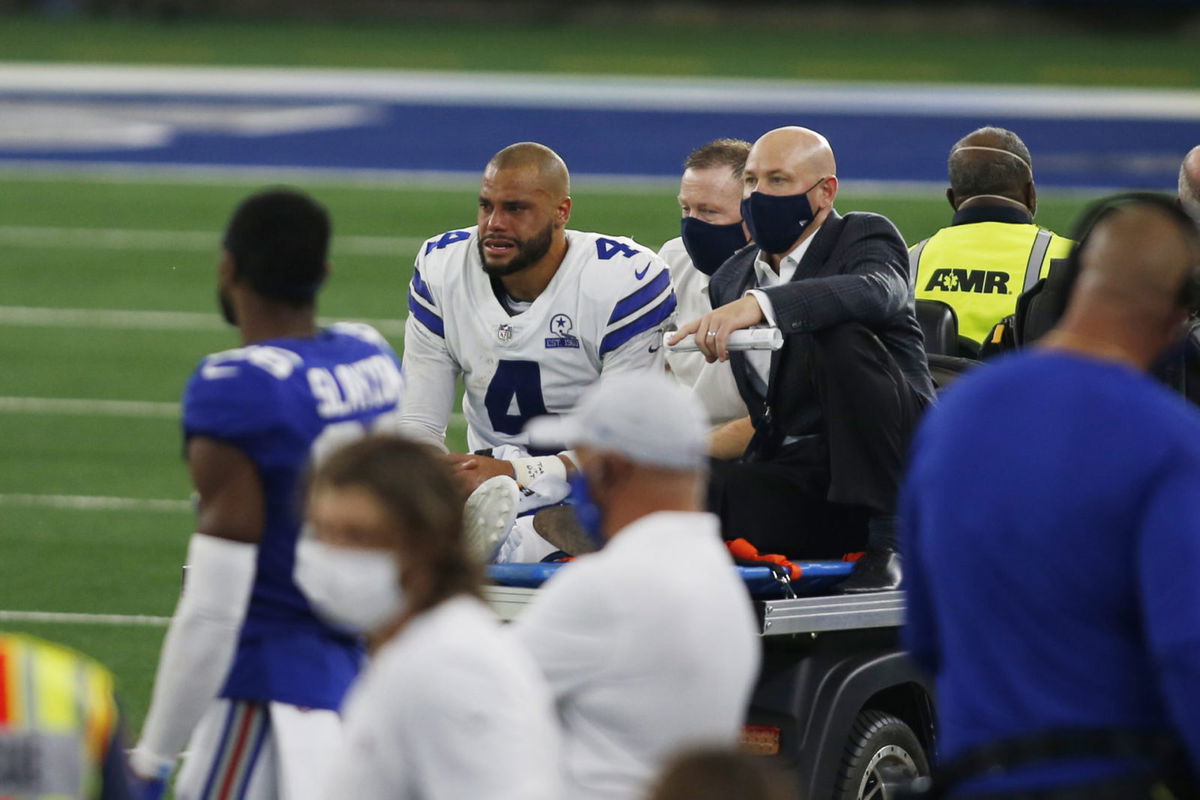 Dak Prescott has been with the Dallas Cowboys since 2016. His debut season in Texas was a massive success. Dak was awarded the Rookie of the Year award, but the next few years brought in some mixed results for the talented youngster.
After a busy offseason, Prescott showed signs of brilliance while playing for the Cowboys over the last few weeks. However, his season-ending compound right ankle fracture on Sunday has brought his NFL career to a startling halt.
What awaits the 27-year-old athlete when he makes his NFL comeback in 2021?
ALSO READ- Dak Prescott Endures Compound Ankle Fracture; Set to Undergo Surgery
Jerry Jones maintains his stance regarding Dak Prescott's future with the Cowboys
Dallas Cowboys' owner Jerry Jones continues to pledge his support to the injured quarterback, Dak Prescott. Dak was playing on a $31.4 million franchise tag this year after failing to agree on a contract extension in the offseason.
The former Mississippi State player was having a stellar individual season with the Cowboys before his unfortunate injury. Prescott threw for 1,856 yards with 9 passing TDs to his name in 5 games.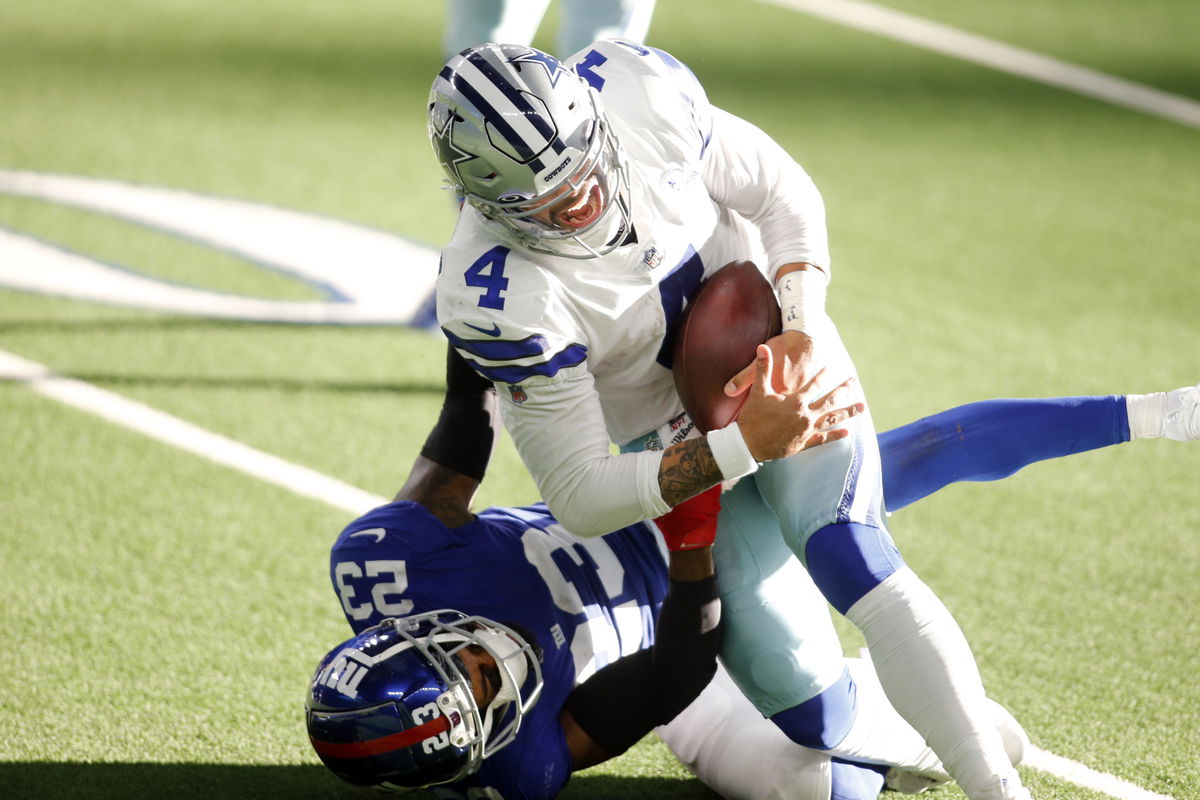 This injury will definitely alter the course of his NFL career, yet Jones is adamant that Dak's immediate future lies with the Dallas Cowboys, for now.
He said, "We've got to be reminded that to have a team, we've got to really manage how we dole out our resources. Dak is deserving of anything that you want to put on a piece of paper, relatively speaking.
"He's deserving of that. If you evaluate what he can do to help us win championships, you can see that it's there. Plus, he's a leader at the premier leader spot. We've got to make it work.
"So what am I saying? I'm saying exactly the same thing I said the last time I was asked about this before the season started. This is part of the game, the business, and the contract part," Jones said via NFL Network.
Dallas Cowboys star Dak Prescott receives loads of support on social media
MVP & Comeback player of the Year in the same season 🤔. The fight starts today Lil bro. Let's get it @dak

— Tad Prescott (@86Prescott) October 12, 2020
After my injury, hearing from @Yg_Trece, a guy who had been through it, made a huge difference. @dak, if there's anything I can do to help, don't hesitate to reach out. You're not alone!

— Gordon Hayward (@gordonhayward) October 13, 2020
Dak Prescott's neighbors put up a "Get Well Soon" sign in front of his home

(Photo: @SuzanCahanin) pic.twitter.com/CcnNf1JA6m

— Jon Machota (@jonmachota) October 13, 2020
Can't stop thinking about @dak. In life as in football there are good and bad people. Dak is one of the great ones. This is more than a loss of a starting QB; this is a loss of a respected leader of men. This is a loss suffered by the entire NFL.

— Gil Brandt (@Gil_Brandt) October 12, 2020
Mike McCarthy said he has been in contact with Dak Prescott today. "He's in very good spirits. He's excited to get home and start the journey back, as you would expect from Dak. He's doing OK."

— Jon Machota (@jonmachota) October 12, 2020
btw Dak Prescott hasn't lost the bet on himself. He got hurt and he'll recover and the Cowboys will still need to tag him and/or get a long term deal done.

Dak will still win his bet.

— Jeff Cavanaugh (@JC1053) October 12, 2020
As per the latest updates, Prescott will face a 6-8 month-long layoff. The seasoned NFL quarterback should make a full recovery in time for next season. It will be interesting to see how Jerry Jones and the Cowboys management handle Dak's contract situation in Texas.
"We've got our quarterback in Andy Dalton. This does impact expectations. On the other hand, this is a different year. If you ever had a year to approach things in an unorthodox way, this is it," Jones further told The Athletic's Jon Machota.
In the meantime, former Cincinnati Bengals quarterback Andy Dalton will start the remainder of the Cowboys' games. Dalton took over in the fourth quarter against the Giants on Sunday and helped seal a win in the dying stages of the game.
Let's hope he can carry forward the same momentum as the Cowboys host the Kyler Murray-led Arizona Cardinals in Week Six.
ALSO READ- "Dak Prescott is Our Future"- Jerry Jones Maintains Support Towards Injured Quarterback