Dallas Cowboys Rookie Wide Receiver CeeDee Lamb Set to Don Iconic No.88 Jersey
Published 05/01/2020, 5:30 AM EDT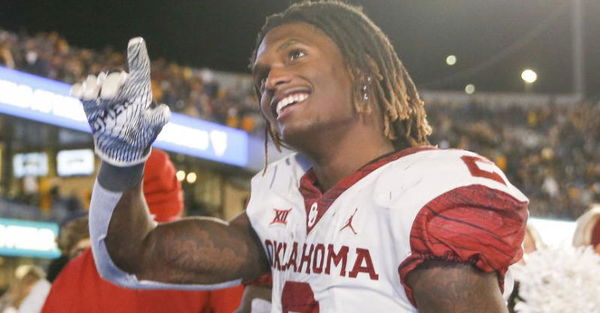 ---
---
The 21-year-old CeeDee Lamb gave up his senior year and entered the 2020 NFL draft. The Dallas Cowboys drafted him with the 17th overall pick and have handed him an iconic jersey for the upcoming season. As a result, he has huge expectations on his young shoulders.
ADVERTISEMENT
Article continues below this ad
CeeDee Lamb will be Jersey No.88 at Dallas Cowboys
The wide receiver was absent when the Dallas Cowboys unveiled their rookie numbers. At the time of the draft, Lamb told reporters, "Yeah, we rocking No.10 this year. Yes sir."
ADVERTISEMENT
Article continues below this ad
However, Jerry Jones had the final say as a club owner and decided that his top draft pick will wear No.88
Cowboys rookie WR CeeDee Lamb will wear No. 88, the same number as Michael Irvin, Drew Pearson and Dez Bryant. Lamb wanted to wear No. 10, but Jerry Jones said he wanted Lamb to wear 88.

— NFL Update (@MySportsUpdate) April 30, 2020
Lamb will have a huge billing to live up to as the No.88 Jersey was donned by Cowboys wide receiver legends such as Drew Pearson, Michael Irwin, and Dez Bryant. 
ADVERTISEMENT
Article continues below this ad
The 77-year-old explained the choice to RJ Ochoa of Blogging with the boys. 
"I recently lost a great friend. One of my very best might have been my best. I played ball with him at Arkansas. He was number 88. His name was Jerry Lamb, he was drafted by the Kansas City Chiefs. We couldn't have won a national championship without him and he was a wonderful player."
"And so when we were, this is a little drama from our perspective, when we were all sitting there and had said our piece, and then we said, 'okay, what's it going to be? I said in honor of my great friend that just passed this year we're going to have his namesake come on here and wear old number 88. Just like Michael and Dez and those guys, and we've got us a wide receiver. And let me tell you one thing. If he's got the competes and heart of that Jerry Lamb he'll be bad to the bone."
ADVERTISEMENT
Article continues below this ad
Jones has high hopes for the youngster. Do you see CeeDee Lamb having a successful rookie year at the At&t Stadium? Or will the weight of expectations get to him?
WATCH: "Look At Him Rumble The Earth is Shaking"- Keith Traylor Has A Run For The Ages