Dallas Cowboys' Trevon Diggs Sets Ridiculous Goal to Achieve By End of Season
Published 12/22/2021, 12:13 PM EST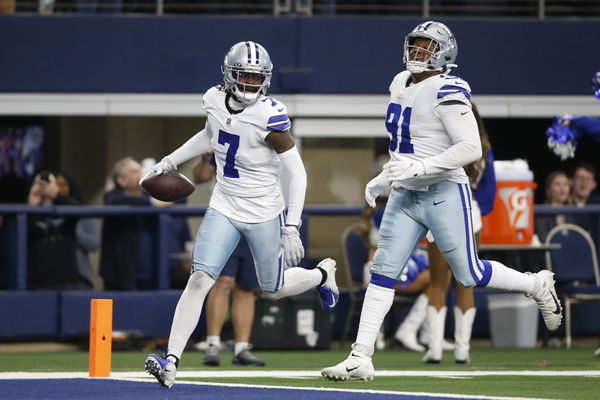 ---
---
Trevon Diggs is the best defender in the NFL today. But he is just a couple of interceptions away from becoming the biggest Dallas Cowboys cornerback of all time. Currently, Diggs has 10 interceptions to his name in the current season. That is the most interceptions than anyone in the 2021 season. Most importantly, that stat is a draw with the Hall of Famer Mel Renfro.
ADVERTISEMENT
Article continues below this ad
He is just one interception behind the Dallas Cowboys franchise record. The Hall of Famer Everson Walls holds the record with 11 interceptions in the 1981 season. Trevon Diggs is also tied with the total number of interceptions the entire team of Dallas Cowboys made in 2020. 
Trevon Diggs history making his 10th Interception
ADVERTISEMENT
Article continues below this ad
In the dominating win against the New York Giants in week 15, Diggs caught his 10th interception. It tied him for the second place in the entire Cowboys' history. 
The Giants quarterback Mike Glennon was under a lot of pressure. He saw his wide receiver Kenny Golladay in the end zone. Already being 21-6 down, there wasn't a lot that the Giants could do either way. Glennon under threw the ball, and Trevon Diggs intercepted the pass. Nobody should ever throw the ball in Trevon's direction because he will never let it get through him.
The wide receiver Glennon knocked the ball off the hands of Driggs. At first, the officials ruled it as an incomplete pass but the head Mike McCarthy threw a flag. Driggs was confident, and the decision was overruled. The call was made in his favor, and Trevon Diggs completed his 10th interception in a single season.
Diggs sets an incredible goal for himself 
ADVERTISEMENT
Article continues below this ad
After completing 10 interceptions, Diggs is only two away from making history in Dallas. But there is an even better record than Driggs can break. He only needs four more interceptions. The current record for the most single-season interceptions in NFL history is 14. This record belongs to Dick 'Night Train' Lane, who set it in 1952 with the Los Angeles Rams. The record could soon have Trevon Diggs' name in it. 
ADVERTISEMENT
Article continues below this ad
Diggs wants to do something even greater. Recently when asked about his 10 interceptions, Trevon said, "F*ck it, Let's get 20!" Trevon Diggs seems a bit too confident in his abilities, but If anyone can do this, it's him.