WATCH: This Video of Trevon and Aaiden Diggs Will Make Your Day
Published 12/04/2021, 3:40 AM EST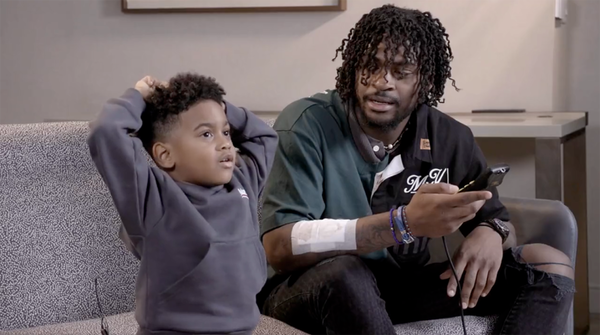 Aaiden Diggs, the son of Dallas Cowboys star cornerback Trevon Diggs, has already gone viral on several instances this year. People around the world certainly loved his adorable moves that have been caught on camera. However, his most recent appearance with dad Trevon Diggs could be his cutest one so far.
Earlier this year, Aaiden met his favorite quarterback, Dak Prescott. But the kid was so mesmerized by the Cowboys star, he uttered the first thing that came to his mind, by calling him "Patrick Mahomes". A few months later, he was cheering his father from the stands.
ADVERTISEMENT
Article continues below this ad
"You're Patrick Mahomes? I mean, not Patrick Mahomes, you're Dak Prescott?"

Cowboys DB Trevon Diggs' son, Aaiden, got to meet his favorite QB Dak Prescott and it was adorable ❤️ 😅

(via @NFLFilms)pic.twitter.com/mzJaLkKS8Z

— SportsCenter (@SportsCenter) September 7, 2021
His innocent yet inspirational advice to his dad was to "believe in yourself," to "make sure you do good," and to "break those ankles." Although the most adorable part was when he cheered his father to "make the money" because "we want the money!" Aaiden Diggs loses no chance to lighten up the surroundings with his jovial nature.
Aaiden Diggs, the star of the Diggs family
During an interview with his family, Aaiden was declared to be the biggest personality of his family, along with his uncle Stefon Diggs. He then took the moment to mimic the warmup routines of both his dad and uncle. Following which he again got confused as he mistook Dak Prescott for Patrick Mahomes.
ADVERTISEMENT
Article continues below this ad
In his most recent clip shared by the NFL, entitled 'Generations', we see Aaiden Diggs paving his steps to stardom. As Trevon was going through his tapes, his four-year-old son mimicked his touchdown celebrations. Aaiden had some adorable yet funny comments in hand, but his most hilarious one was when he watched Lamar Jackson on screen.
ADVERTISEMENT
Article continues below this ad
It was so adorable to see the young star pronounce the name 'Lamar Jackson' incorrectly every time, no matter how hard he tried. And it was hilarious to see Trevon Diggs give up on his son, as he failed to make him pronounce the name correctly.