Dan Orlovsky Slams the Packers Over their Treatment of Aaron Rodgers
Published 05/01/2021, 4:17 PM EDT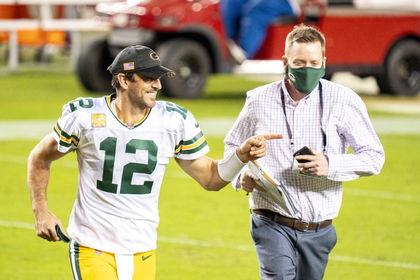 ---
---
Matt LaFleur-coached Green Bay Packers suffered a disappointing end to their 2020 NFL campaign. The Packers suffered a narrow 26-31 loss to eventual Super Bowl winners Tampa Bay Buccaneers earlier this year. Almost immediately, veteran quarterback Aaron Rodgers sparked rumors of a potential exit from Wisconsin this summer.
ADVERTISEMENT
Article continues below this ad But despite assurances that he is set to remain with the Packers in 2021, Rodgers is reportedly unhappy with the ongoing contract talks. In fact, just prior to the 2021 NFL reports, multiple NFL insiders claimed that Aaron was set to be traded.
ADVERTISEMENT
Article continues below this ad
It remains a possibility that Rodgers could still make an unforeseen departure from Lambeau Field.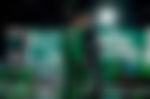 Lead Analyst gives his take on Aaron Rodgers and the Green Bay Packers
Former Detroit Lions quarterback-turned-analyst Dan Orlovsky gave his tale on the unpleasant rumors pertaining to Aaron Rodgers and the Green Bay Packers.
"My issue with the Packers coming out and saying 'We're not trading Aaron Rodgers' is this. You guys were planning on this situation last year? This is not Seattle, where it's like, well, Russell, he's not happy, we don't have an answer."
"You guys already started to plan for this. It was your choice for that. So don't come out and say, well, we're not going to trade them. When you guys should have been at least in your thought process prepared for this when you took Jordan Love," Orlovsky said on the show.
ADVERTISEMENT
Article continues below this ad
Green Bay Packers quarterback Aaron Rodgers was terrific for the Packers last year. He finished the regular season with 4,299 passing yards and 48 passing TDs in 2020. He also had a fine run in the post-season barring the NFC Championship loss to the Bucs.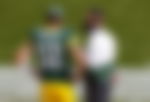 Rodgers was adjudged as the NFL MVP last season. This was his 3rd MVP win in a career that spans more than 15 years. But has the 37-year old already played his last games as a Packers quarterback? Tell us what you think in the comments below.
ADVERTISEMENT
Article continues below this ad