Davante Adams Tries to Fulfill Aaron Rodgers' Special Request for Joining LV Raiders Hyping NFL World for a Reunion
Published 02/05/2023, 4:50 AM EST

Follow Us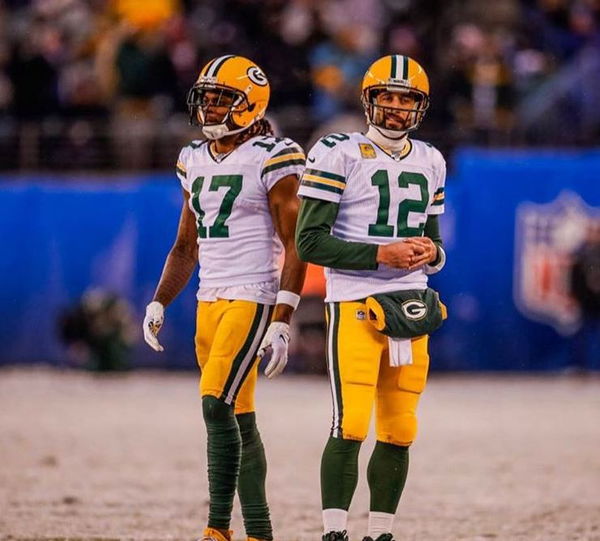 The Aaron Rodgers trade deal is currently the talk of the NFL world. Many have linked the iconic Green Bay Packers QB to the struggling Las Vegas Raiders. And he already has a friend there in wide receiver Davante Adams. Adams is hyping up the NFL world for a reunion of the two.
Rodgers had a special request for Adams before the QB joins him at the west coast. And the Raiders WR is trying to fulfill that request.
Davante Adams hypes up Aaron Rodgers rumors
ADVERTISEMENT
Article continues below this ad
The Raiders WR Davante Adams is out house hunting. He let the NFL world know that he is looking at houses. "House shopping is fun…," Adams tweeted.
A short tweet was enough to hype up the NFL world for a potential reunion of two partners who worked so well together at Green Bay. Fans immediately linked the tweet to Aaron Rodgers and the rumors of him joining the Raiders. And many fans offered to help the wide receiver in his house shopping. A fan wants to help Adams and his friend Rodgers by offering their services.
For this fan, the trade deal will be sensational.
This Carr/Rodgers swap trade gonna be sensational

— BuffLlama (@JayDizzyD) February 5, 2023
This fan has jumped to the end result from the start.
A Packers fan doesn't like what is going on here and wants Adams to leave their QB alone.
Leave my QB alone. You already left us. Don't take him from us too.

— Dr. Stanley Goodspeed, Ph.D (@SaviorOfSanFran) February 5, 2023
This fan loves how Adams has kept up with Rodgers rumors.
I love how Tae keeps playing along with Rodgers rumours

— Slickeezy (@rockstarbeast24) February 5, 2023
But another fan thinks both are sitting and laughing.
This comes after Adams first ignited the flames by saying that Rodgers will move to his neighborhood. The question reached Rodgers himself who asked Adams to buy him a house as he has got the money now. And then came the WR's latest tweet. Sure, some coordinated hyping up going on here. 
The partnership at Green Bay
ADVERTISEMENT
Article continues below this ad
Aaron Rodgers was an established name already when Davante Adams arrived in Green Bay as a second-round pick in the 2014 NFL draft for the Packers. And in the next couple of years, Adams established himself as the primary target for the Packers QB. And they developed a unique chemistry together.
Adams recorded 669 pass receptions from Rodgers and gained a total of 8,121 receiving yards. The Adams-Rodgers partnership resulted in 73 touchdowns. Some incredible numbers.
ADVERTISEMENT
Article continues below this ad
So, Rodgers and Adams took Green Bay fandom by storm. Will they be the same if the iconic QB decides to move on to the Raiders? Is Rodgers exactly the kind of QB that the Raiders want?
Watch this story: Aaron Rodgers Has His Say On Davante Adams Getting Into Legal Trouble
Edited By: Gideon Mathson