"Davante Adams won't let this happen next year": Tom Brady Shoots Multiple Tampa Bay Exit Hints As NFL World Riles Up
Published 01/17/2023, 1:45 AM EST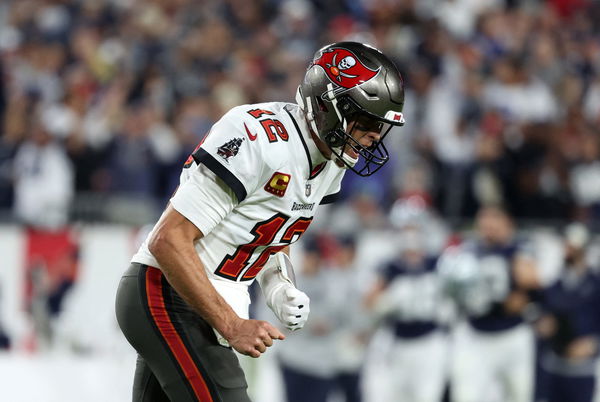 Tom Brady will not be a happy man after his blowout loss. If the Bucs' performance all year was any sign of their inconsistency, their playoff game solidified their slump. Tampa Bay fans found themselves at a loss for words, as disappointment permeated the air.
If Brady's fans were mourning the end of his eighth title quest. There's no doubt those who are not so fond of the QB gleefully celebrated his loss to the Cowboys. But will the NFL world be seeing the last of TB12?
Tom Brady and his fans will be disappointed, but the latter has already moved on to the next step
ADVERTISEMENT
Article continues below this ad
A blowout loss is definitely not the way Brady would want to leave the league for good. An eighth Super Bowl title? That's more like it. The QB will find himself fielding questions about his future from the league for a long time coming. With the Bucs' postseason run coming to an abrupt end, the QB has nothing but time on his hands. But the incessant speculation about the future may cease if Brady chooses to be forthcoming about his plans.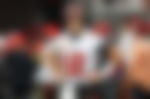 Once he hits free agency, there's no doubt the QB will be courted by many. After all, the league has no shortage of teams in dire need of a good quarterback. But, the TB12 will need to go to a team where the offense doesn't need building from the ground up. And who better understands Brady than Las Vegas Raiders head coach Josh McDaniels? The duo created a legacy with the Patriots and fans are now pointing TB12 toward sin city. After today's frustrating game, especially with regard to drop catches and an overall lack of cohesion, the NFL world is back to playing recruiter.
Brady will have time to evaluate the best choice
There's no doubt that no matter what decision Brady makes, there will be backlash. That perhaps is the consequence of being the most successful player in the league. But some fans, Raiders fans in particular, will scream from the rooftops for the QB to make his way to Vegas.
This user refers to Mike Evans falling short of what could've been a touchdown at the two-minute mark.
One user disagrees and states that another veteran will be throwing the Raiders' Davante Adams the ball.
That'll be rodgers throwing adams the ball

— Brian Schemmer (@brianschemmerr) January 17, 2023
After the bitter loss, Brady spoke to the media and thanked them for their efforts. His disappointment was visibly evident, but the QB followed through with true sportsmanship- even giving Cowboys QB Dak Prescott some encouraging words. This user says what everyone in the NFL world is thinking.
Brady is so hard to read I actually dont know if hes done or not

— fire greg roman (@FruitPunchMarlo) January 17, 2023
Another user says that Adams is awaiting the QB.
This fan commented on Brady's post-game press conference.
ADVERTISEMENT
Article continues below this ad
Doesn't sound like a retirement (but I think) hes basically saying I'm leaving TB for another franchise lol

— Jesse (@Jesse149414) January 17, 2023
TB12 warmly expressed his gratitude, but his words sounded like a farewell. Was it a temporary farewell since it marks the end of Tampa Bay's postseason? Or, is Brady considering leaving the Bucs? Fans who are hoping for the QB's retirement won't set their expectations too high. On the other hand, the rest of the NFL world will continue to play recruiter for Brady and throw his name around every possible discussion until the QB announces something substantial.
ADVERTISEMENT
Article continues below this ad
Watch This Story: Hall of Famer Reveals Tom Brady Sr's Worst Fears Are Coming to Pass. What's The Issue?