Deebo Samuel Trash Talks Aaron Donald Ahead of Rams vs 49ers Fixture
Published 01/08/2022, 11:51 AM EST
The San Francisco 49ers meet divisional rivals Los Angeles Rams during their season finale matchup, and with it, the love story between Deebo Samuel and Aaron Donald continues. Deebo and Donald have been dropping banter upon each other every time the two sides have met for the past two years.
It all started when during a post-game conference, Donald was asked about their planning for Deebo after the Niners beat the Rams back in 2020. To which the defensive tackle replied, "Who?… Who's that?" Even though Deebo finished the game with a phenomenal display of athleticism with six receptions for 66 yards and a touchdown.
ADVERTISEMENT
Article continues below this ad
And since ever then the two sides met, Deebo has made sure to troll Donald. Although trolling Donald is a terrible idea for any player, Deebo seems to get away with anything with his quick feet. Deebo holds a 5-0 record against Donald. And that seems to be the most humiliating part for the defensive lineman.
Deebo Samuel trolling Aaron Donald again
And as the two sides approach another matchup in the season finale, Deebo made sure to call out on his buddy Donald for a trash talk session. When on Thursday Deebo was asked if he would talk to Aaron Donald, the Niner said, "No, I'm not pressed for a conversation."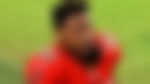 "I don't know the guy," Samuel said. "Obviously, he don't know who I am, which he should. I don't know, I just don't walk up to people and be like, 'Hey, how you doing? I'm Deebo.' I'm not that type of guy or whatever… He's an opponent, so I don't know why I would want to have a conversation with the guy. I just don't. Not something I do."
ADVERTISEMENT
Article continues below this ad
Although it was pretty bold for the 25-year-old to say that, considering the fact that the Rams are now one of the best teams in the league, Donald will be looking ahead to seal his first win against Deebo. And if he does that, it will probably be the defensive tackle who will break the ice with a befitting taunt.
ADVERTISEMENT
Article continues below this ad
As far as the game is concerned, the Rams have already clinched the division. But the Niners are still on the lookout to punch their ticket to the playoffs. However, they have to do so at the expense of the Rams. But Aaron Donald will make sure that it doesn't happen since he has been waiting for this specific moment to deprive the receiver of a playoff season and shut him once and for all. Although, it is to be seen as to what happens next.