Deepening Woes Continue for Jimmy Garoppolo as Former Tampa Quarterback Shares Real Reason Behind No Trade for NFL Hotshot
Published 08/20/2022, 5:30 AM EDT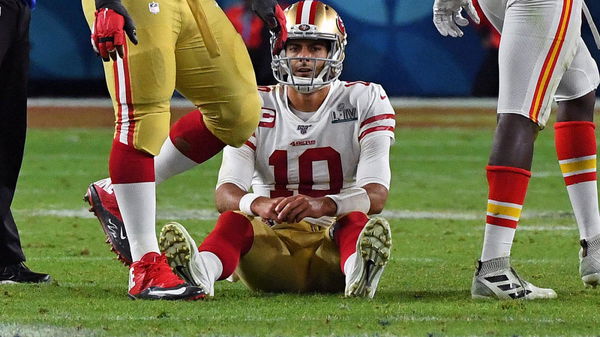 The San Francisco 49ers had a persistent concern on their QB chart. Now, Kyle Shanahan is moving forward with Trey Lance on the frontier. But the Jimmy Garoppolo dilemma remains. The QB remains in a position where he is open for trade, but no one is just swooping in. However, new reports might shed some light on the looming question.
During the PFT Broadcast, Mike Florio and Chris Simms share an insight over Jimmy Garoppolo not finding a suitable touchdown spot. The analyst mentions one of his off-field shortcomings — Going 'off the radar' may contribute to his lack of trade offers. The confusion surrounding Jimmy G gets murkier.
ADVERTISEMENT
Article continues below this ad
Simms said Monday on Pro Football Talk, "I'm not going to name the player, but I was at an event and the player who is a long-standing player with the 49ers is like, 'I can't get the quarterback to call me back. I've called him every day for a month.' You hear it from everybody. I've heard it from ex-coaches who have moved on. It's weird. The organization has reached out to him at times and explained things to him, and they can't get ahold of him. To the point where they have had to drive to his house and knock on the door and be like, 'Hello? Are you alive? Are you there?'"
According to reports, San Francisco hoped to locate a trade agreement for the veteran quarterback by August 30. That day will be the ultimate team cut-down day, with franchises reducing their rosters to 53 athletes.
It may disappoint some supporters that the 49ers gave up on Jimmy. However, ghosting the group may have influenced the decision.
Niners CEO happy to have Jimmy Garoppolo on the roster
The 49ers are just weeks away from the regular season kickoff. But Jimmy Garoppolo, who helped the team get close to the Lombardi, remains in reserve. The QB has a $24.2 million base salary awaiting but has no trade suitors in the line. But if the situation remains the same, franchise CEO Jed York is okay to have Garoppolo on the roster.
ADVERTISEMENT
Article continues below this ad
York told The Athletic's Tim Kawakami that he recognizes the salary cap is dramatically different from not having one. But, as he previously stated, they are content to keep Jimmy on the roster. And if that is the situation, then so be it.
ADVERTISEMENT
Article continues below this ad
Will any Jimmy G trade materialize in the upcoming days? it is subject to witness.
Watch this story: Tom Brady Went to The Same High School As This Controversial MLB Hall of Famer Who Was Also A 14x All-Star
Edited By: Gurjyot Singh Dadial