Defensive Beast Aaron Donald Pays Hefty Fine for Messing With Patrick Mahomes
Published 12/04/2022, 4:15 PM EST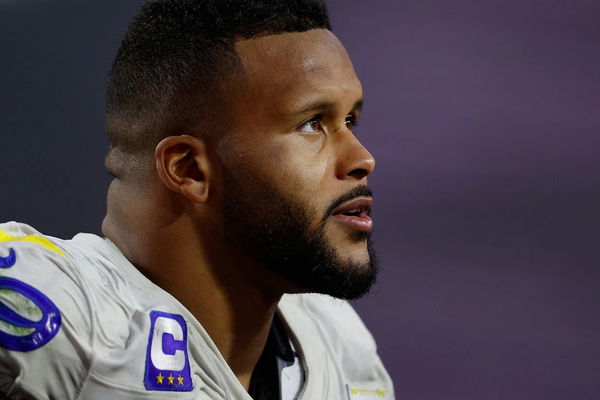 The Los Angeles Rams are unable to repeat last year's championship-level effort this season. The Super Bowl champions are struggling after injuries have slowed them down in offense. LA's defense is also slightly depleted with the departure of some key players this off-season. However, defensive behemoth Aaron Donald is still there for LA, even if it sometimes comes with a $15,000 fine.
One of the most feared linemen and a menace to all quarterbacks in the league, AD took it a step too far on Sunday against Patrick Mahomes and the Chiefs.
ADVERTISEMENT
Article continues below this ad
The loss at Arrowhead Stadium wasn't the only negative for Donald on Sunday night. AD was also fined $15,914 for an illegal face mask pull on the Kansas City Chiefs quarterback, according to NFL insider Ian Rapoport.
Donald's facemask pulling canceled a sack on Patrick Mahomes for this particular play in the LA Rams' 26-10 loss. Aaron Donald is not going to enjoy the financial punishment imposed after the average season he is currently having. Donald is recording one of the lowest years in numbers in all of his Hall-Of-Fame career. He has only 5 sacks, 49 tackles and 11 QB pressure hits after Week 12 this season.
Aaron Donald can look back on his actions while he recovers from his injury
The particular illegal incident happened early in the fourth quarter, with Kansas leading by 10 points. At the 7-yard line on 3rd and goal, DT Aaron Donald and Michael Hoecht rushed Patrick Mahomes and sacked him illegally.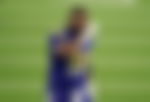 AD is dealing with extra QB rushing and the added pressure of the position after Von Miller joined the Buffalo Bills in the off-season. Things took an even worse turn when AD suffered an ankle sprain in the Chiefs game. Donald will miss this Sunday's clash with Seattle.
ADVERTISEMENT
Article continues below this ad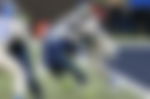 Aaron Donald is not the only crucial Rams member out due to injury. The Los Angeles Rams' injury troubles didn't start this season. It starred last season in the middle of the 2022 Super Bowl when star WR Odell Beckham Jr. left the game with an ACL tear. OBJ left LA.
A few weeks into this season, the Rams also lost Super Bowl LVI MVP Cooper Kupp to an ankle injury. QB Matthew Stafford escaped concussion worries earlier this season only to fall prey to a neck injury against the Chiefs. Stafford joined the injury reserve and will also likely miss the next four games.
ADVERTISEMENT
Article continues below this ad
WATCH THIS STORY: Rather get hit by Aaron Donald than NFL goat Tom Brady got destroyed by game-changing 4x champion Steph Curry at the ESPYs
The 3-8 Rams will host the formidable Seattle Seahawks at SoFi Stadium. Without Aaron Donald in defense and key offensive players missing, the Los Angeles side will face an uphill task this Sunday.
Edited By: Deepika Bhaduri