Despite No Contract on Table, Lamar Jackson Publicly Responds to Ravens Fan's Desperate Attempt to Keep Him From Leaving Baltimore
Published 01/17/2023, 3:28 PM EST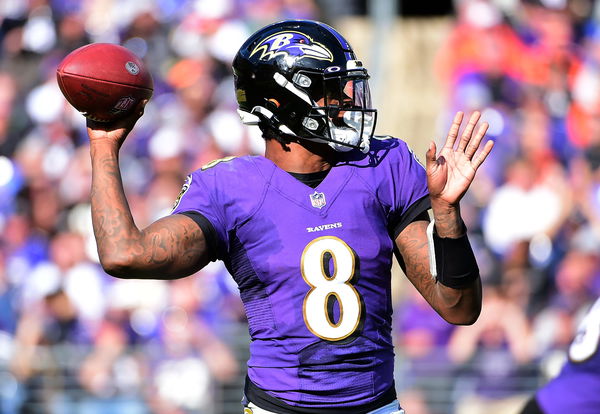 Lamar Jackson has made a name for himself as a reliable QB at the Baltimore Ravens. But speculations are that he may leave the franchise at the end of the current season. Surely the fans are not happy with the situation. And one such fan put in a desperate plea to Jackson to make him stay in Baltimore.
Jackson is reportedly not happy with his contract situation. But despite having no contract on the table, the Ravens QB responded to his fan's plea.
Lamar Jackson responds to a fan
ADVERTISEMENT
Article continues below this ad
A Ravens fan wants to leave no stone unturned to convince Lamar Jackson to stay with the franchise. And he sent a plea straight to the QB and expressed their feelings with a song."Please don't go," the lyrics of the song repeated on a loop.
The request was so genuine and desperate, even Jackson couldn't help but respond to it. All he could do was ask the fan to chill. But it surely goes to show how much the Ravens fan base adores their explosive QB.
Jackson is on a $9.5 million contract with the Ravens that runs out at the end of the current season. Both parties are locked in negotiations but haven't come to an agreement as of now. Jackson will be free to leave the franchise at the end of the season, with many organizations sitting ready to pounce on the opportunity. But the Ravens may end up tagging Jackson to prevent that. Both side haven't agreed on guaranteed money in the contract extension. And the NFL world is anxiously looking for any hints about the future.
The NFL world looks keenly
The NFL world is keeping a keen eye on the Lamar Jackson situation at the Ravens building. Numerous fans responded to Jackson's reply to the desperate fan. Many want Jackson for their own teams, while a section of Ravens fans debates his injury.
A Las Vegas Raiders fan shows support for Jackson.
This fan wants to make a deal with the QB to bring him to Indianapolis.
Here is something you need to know, there is one team that has a good team all around, that team is the Colts, Lamar lets make a deal, if you sir come to Indy you will be my favorite NFL player of all time, and I will also defend you no matter what happens or what you say.

— Eli Williams (@EliWill28802340) January 16, 2023
A Washington Commanders fan says they will treat Jackson well.
we would treat u so good in dc Lamar. like u deserve to be treated.

— PFT Commenter (@PFTCommenter) January 16, 2023
ADVERTISEMENT
Article continues below this ad
This fan gives an earful to people saying Jackson faked his injury.
Absolutely correct! Same people who want you on the field won't be there when you get older and can't bend your leg and you can tell it's going to rain 2-3 before it does. Only your mother loveds you, the rest of the world don't give a crap!

— Nancy Quinn (@NancyQuinnfran1) January 17, 2023
ADVERTISEMENT
Article continues below this ad
Jackson suffered a grade two PCL injury in Week 13 of the regular season. He didn't play the last five games of the season, including the team's wildcard playoff game against the Cincinnati Bengals. Will he sign again with the Ravens? Or is it a time for a change?
Watch this story: Lamar Jackson reveals the reason behind why he deleted his controversial tweet.
Edited By: Deepika Bhaduri