Tampa Bay Buccaneers Defensive Player Fined $25,000 For Ending Jameis Winston's Season
Published 11/07/2021, 3:36 AM EST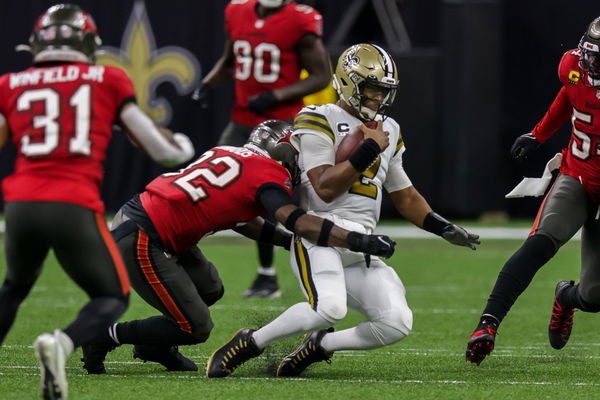 ---
---
Jameis Winston had an excellent game against Tampa Bay Buccaneers, but things went downhill fast. During the game, Winston took a big hit from Tampa Bay's Devin White. The linebacker has now received a fine from the NFL for the tackle, as Winston might miss the rest of the season because of it.
ADVERTISEMENT
Article continues below this ad
Bucs player fined for injuring Jameis Winston
ADVERTISEMENT
Article continues below this ad
New Orleans Saints vs Tampa Bay Buccaneers was always going to be an electric fixture. The Saints have been Tom Brady's kryptonite ever since he moved to Florida, and they haven't stopped being a thorn in their side yet. Now, the world's best QB suffered another season loss to the Saints.
Former Tampa Bay QB Jameis Winston suffered serious embarrassment when the franchise cut him from their plans. Upon realising Tom Brady would take his place, he went to New Orleans and absolutely killed it there. Now, he holds multiple wins over Brady. Unfortunately, he took a big hit against the Bucs, but they received a receipt.
#Bucs LB Devin White was fined twice — for the horse collar tackle that left #Saints QB Jameis Winston with a torn ACL last week, as well as roughing the passer and taunting on separate plays.
Unsportsmanlike Conduct: $10,300
Unnecessary Roughness: $15,450

— Ian Rapoport (@RapSheet) November 6, 2021
According to Ian Rapoport, Buccaneers' linebacker Devin White received a fine of $10,300 for unsportsmanlike conduct and $15,450 for unnecessary roughness. With 25 grand out of his pocket, one can visualise Devin pacing in his home, but he's a lot more calm than we think.
"I went up, tapped him on the head and said, 'I hate this happened to you, man. Because you're playing good ball and just praying for you.' Because, man, Jameis is a good guy. He's a great guy. I'm gonna put an emphasis on that. All last year, when they was playing, and we was playing, he was texting — I don't know if he was texting everybody, but me and him was close, when I came in, he kinda showed me around — and just telling me how proud he was of me." (H/T Bucs Report)
When will Tampa Bay Buccaneers play next?
ADVERTISEMENT
Article continues below this ad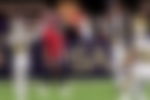 This week, Tom Brady and Co have a well-deserved bye. They will return to the NFL next week when they take on Washington Football Team. Ron Rivera's team will have an uphill task ahead of them as they face their toughest test so far. As for Brady, they will look to steady their course once again.
Tampa Bay looked set to qualify for the playoffs, sharing impeccable records with Green Bay Packers, Los Angeles Rams and Arizona Cardinals. Now, the Packers hold the best record while the rest of the league falls in line. But with the Packers facing Kansas City next, it is time for the Bucs to go full throttle.
ADVERTISEMENT
Article continues below this ad
Using this week's bye, Tom Brady and the Buccaneers can fix their defensive woes and rebuild their team. The time for celebration is over for the squad, and it's time their season takes shape.