Dez Bryant Comes Out in Support of Former Baltimore Ravens Teammate Lamar Jackson
Published 03/21/2021, 10:22 AM EDT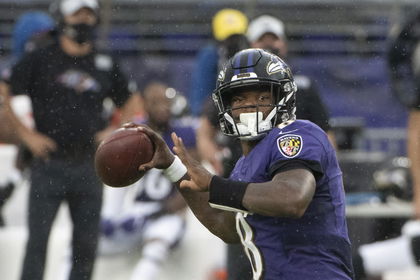 ---
---
The first thing that comes to mind when one thinks of the Baltimore Ravens is their rushing attack. Viewed as a run-first offense, the Ravens franchise has one of the league's best dual-threat quarterbacks in Lamar Jackson.
ADVERTISEMENT
Article continues below this ad
Jackson recently became the first QB in NFL history to post back-to-back 1,000+ rushing yard seasons. Jackson thus is more than capable of running the rock. But his passing ability is something that has been criticized by many ever since he was drafted in 2018.
And a certain stat backs this claim. Going by yards per game, the Baltimore Ravens had the league's worst passing attack in 2020 by averaging only 171.2 passing yards a game. That's lower than what the New York Jets achieved with Sam Darnold at QB (174.8).
ADVERTISEMENT
Article continues below this ad
But should the Ravens' passing woes be blamed solely on Lamar Jackson? Former Baltimore Ravens wide receiver Dez Bryant feels the criticism is uncalled for.
Bryant feels Lamar Jackson isn't the one to blame
Plenty of Baltimore Ravens wide receivers have been critical of their team's passing attack this offseason. And among them is Dez Bryant. The former Dallas Cowboys WR joined the Ravens last season on a 1-year deal.
Now back on the market as a free agent, Bryant took to Twitter to voice his opinion regarding the team's passing issues. "All of this Lamar hate is starting to get on my nerves…
"Just know I got to see first hand what he have to deal with… him being able to play QB is far from the issue," tweeted Bryant.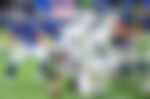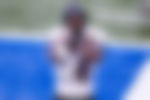 Bryant coming to the defense of his former QB is no surprise. It's no secret that a separate camp believes that the coaching staff is responsible for the side's shortcomings while passing.
In Bryant's tweet as well, the wide receiver clearly hinted at something else being the issue. And while no names were called, Bryant may have very well been hinting at the Ravens' Offensive Coordinator and Head Coach, Greg Roman and John Harbaugh, respectively.
ADVERTISEMENT
Article continues below this ad
The Ravens have clearly been a side that chooses to run the ball more often than not. In terms of pass attempts over the past 2 seasons, the franchise finished dead last.
This points to the fact that the Ravens simply do not opt to pass the ball as often to their wide receivers to make the big plays. All points considered, who do you feel is responsible for the Ravens faltering when it comes to passing the football?
ADVERTISEMENT
Article continues below this ad