"The Strip Club Got Paid": Hours After Ja Morant's Leaked Photos, NFL Veteran Drops 5-Word Truth Bomb
Published 03/12/2023, 6:15 AM EDT

Follow Us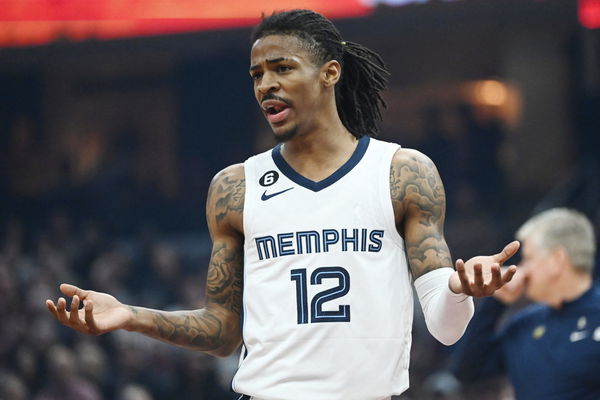 Basketball sensation Ja Morant has been on the news for all the wrong reasons recently. After receiving backlash for flashing a handgun on his Instagram live, it looks like issues are just piling up for the NBA player. Recently, pictures of Morant during his controversial visit to the strip club leaked, turning heads all over the internet. It also brought the interest of former Dallas Cowboys wide receiver and 3 times Pro Bowler Dez Bryant into the mix. 
Dez Bryant took to social media to share his thoughts on the leaked photos, as he states that it might have been done for the self-benefit of someone from the strip club.
Dez Bryant drops truth bomb over Ja Morant issue
ADVERTISEMENT
Article continues below this ad
The Memphis Grizzlies player visited the infamous strip club during his visit to Colorado. The strip club, which goes by the name of Shotgun Willie reportedly leaked photos of Morant's night at the club. The photos showed Morant getting a lapdance from one of the strippers, with money spread across all over the floor. Dez Bryant took to Twitter to share his thoughts regarding the whole issue as well.
The strip club got paid for the videos and photos of Ja Morant from the Ny post… Athletes entertainers please don't spend a dime or step another foot in there out of respect for Ja…. Whoever owned that strip club sold that video for self benefit… Athletes I'm going to keep… https://t.co/FdU6uHer14

— Dez Bryant (@DezBryant) March 12, 2023
Fans took to social media to share their thoughts and perspectives on this controversial issue as well.
Out of respect for Ja? You mean a guy that brought all of this on himself?

— Sports Required (@sports_required) March 12, 2023
Lmao cmon dez yeah the owner sold it but when is ja gonna be responsible for his own actions??? The owner of the strip club didn't make him go down there and spend his money like that🤦🏽 bros in the wrong side of the fight

— lilsweets (@isaacrmata) March 12, 2023
Yea, im sure tmz called up, offered some money and they released the footage

— Denis (@TheyKnowDeno) March 12, 2023
Regardless if you're worried about your image, don't put yourself in a place that's a bad image. Accountability.

— Brandon Updike (@Bupdike21) March 12, 2023
ADVERTISEMENT
Article continues below this ad
Bryant believed the photos were leaked by the club because Morant was a notable personality. Doing so would bring the club into the spotlight and thus, result in the self-benefit of someone who is a part of Shotgun Willies. Dez Bryant also stated that he believed that the strip club got paid for these photos and videos of Ja Morant.
Morant treading on thin ice
After this incident came to light, the NBA indefinitely suspended Ja Morant. Apart from this, the Memphis Grizzlies are also conducting an internal investigation to shed more light on the issue. But the recently leaked images of Morant at the strip club have just added more fuel to the fire. This has raised concerns in the minds of fans about the NBA star's behavior and personality off-court.
ADVERTISEMENT
Article continues below this ad
Ever since the incident Ja Morant has gone on a hiatus from social media and public appearances. He feels he has a lot to grow as an individual and wishes to return to society as a reformed person. Fans will be waiting on the edge of their seats to see how the athlete's future is hampered after this. Morant is walking on thin ice, and now he needs to be extra cautious about his own conduct and behavior in the future.
Watch this story: Tom Brady's millionaire ex-wife Gisele Bundchen once shared her struggles to buy a small apartment in New York
Edited By: Abigail Kevichusa