Did Colin Kaepernick Just Get Signed by the Cleveland Browns?
Published 08/12/2022, 8:45 AM EDT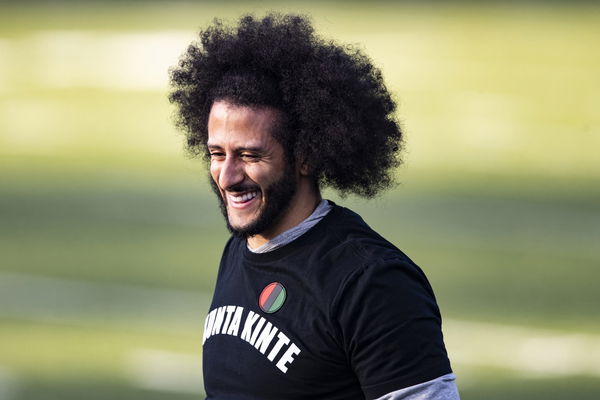 Colin Kaepernick became hype during the offseason after pulling up multiple workouts to achieve a goal. After staying off the game for years, he tried to keep the best case among the franchises for a comeback. Despite the preseason commencement, he can still get back with the Cleveland Browns. Given their QB1 is facing serious trouble, the franchise may have to bring in a new face.
ADVERTISEMENT
Article continues below this ad
Cleveland's choices are slim as the regular season begins in less than a month. However, this does not suggest that other alternatives do not emerge. The Browns signing Colin Kaepernick may sound like a rare phenomenon. Kap has not played a snap at a competitive level since 2016. It could be a crucial point to keep in front of a team who aims to clinch a Lombardi. However, Colin to Cleveland could be a point worth considering.
ADVERTISEMENT
Article continues below this ad
As per Ben Axelrod, the ex-49ers QB has a dual-threat style performance — very similar to QB1 Deshaun Watson. If the franchise brings Kaepernick, it would be less stressful for Browns HC Kevin Stefanski. With a similar play style, the Coach might not have to make sizable developments in the offense if they call up Colin Kaepernick.
Colin Kaepernick worked out for the Las Vegas Raiders earlier this offseason. That deal fell through, and the former NFL quarterback remains without a league team to play for.
Another situation that runs irrefutable is that Colin Kaepernick once worked out with two of the Browns' prominent athletes. Kaepernick slung passes from Browns' WR Jakeem Grant and TE David Njoku during the offseason. They did their training at the House of Athlete in Weston, Florida.
Does Colin Kaepernick stand a chance against this NFL star?
ADVERTISEMENT
Article continues below this ad
While Colin Seems to have a chance, active NFL QB Jimmy Garoppolo might have a better chance. The 49ers QB is waiting for a trade after San Fran moved forward with Trey Lance as QB1. Jimmy G remains one of the best QBs available. Moreover, having him ups the chances of the franchise reaching a Super Bowl, which he did in 2020.
ADVERTISEMENT
Article continues below this ad
If the NFL suspends Deshaun for an entire season, there are rumors that the franchise could bring in Jimmy G, but getting him would cost money. However, if the NFL is successful with an indefinite suspension, it would not be surprising to see speculation about Garoppolo and Cleveland getting some heat.
Watch This Story: Billionaire Rihanna Took Colin Kaepernick's Side When NFL Offered Her a Once in a Lifetime Opportunity