"Disorganized and Unserious Franchise": After Being Accused of Violating League Rules, Carolina Panthers Find Themselves Under Hot Waters by NFL World
Published 01/20/2023, 12:05 PM EST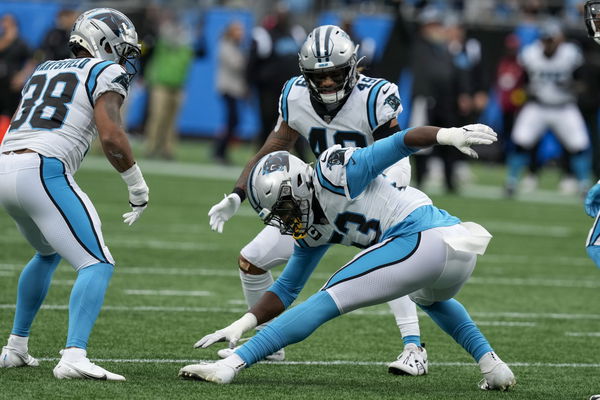 The Carolina Panthers capped off a subpar season with yet another blow. After a year riddled with issues related to a permanent head coach and the squad, it seems their worries are not taking a halt anytime soon. The Panthers will now be facing the repercussions of their actions.
According to the latest updates, the team will find itself slapped with a league violation. So what did the Panthers do?
The Carolina Panthers have come under scrutiny
ADVERTISEMENT
Article continues below this ad
The Panthers did not have the best of seasons. But now, the violation of the league's rules is another issue that they need to worry about. The NFL had sent out a mandate stating that all teams must participate in mandatory inclusive hiring training. The need for inclusivity is necessary. The league's mandate ensures that the hiring process of staff takes place with diversity at the forefront.
According to reports, the violation is due to the Panthers' lack of compliance with the training process. CBS Sports' Jonathan Jones shared a report on Twitter that had fans sighing in disappointment.
Sources tell @CBSSports the Carolina Panthers had been in violation of league rules related to their head coach search. At issue: Nicole Tepper did not complete mandatory inclusive hiring training before the team's search began. https://t.co/8xOTcJKefS

— Jonathan Jones (@jjones9) January 20, 2023
All fingers point at team owner David Tepper's wife, Nicole Tepper, who has reportedly failed to participate in the training. The Panthers have already begun interviews with coaching candidates. Although the team has stated that Tepper underwent the training, the statements have been reportedly refuted by other sources. Panthers fans, who are undoubtedly vexed, had much to say about the issue.
Fans can't help but mock the Panthers
NFL fans took to Twitter and did not hold back from saying what they felt about the matter. This fan is only concerned about one thing. Sean Payton's name has come up often with regard to filling in the HC role in Carolina.
Does this mean he can't interview Sean Payton?

— Jordo (@Jordo42) January 20, 2023
Another user asked.
Are there any ramifications? Or just like "Correct this."?

— Matt McCullen (@WolfpackPM) January 20, 2023
One fan did not hold back from stating.
disorganized and unserious franchise smh

— Resting Cliff Booth Face 🇺🇸 (@urnfndbag) January 20, 2023
Another user calls the management a joke.
This is a joke that that's a thing. It also shows how much of a joke our ownership is that we couldn't follow a simple rule

— Nurse Luke 🇧🇷 (@Rayswag_) January 20, 2023
This fan can't believe what's going on.
ADVERTISEMENT
Article continues below this ad
Another user can't help but sardonically laugh at the situation.
😂😂😂😂😂😂😂 this gets better and better

— Gas House (@MarkBaker6060) January 20, 2023
ADVERTISEMENT
Article continues below this ad
The Carolina Panthers haven't had the best luck in terms of hiring leading men. The quarterback carousel led to a season of ups and downs – mostly downs. On the other hand, their quest for a head coach has come to no avail. With Steve Wilks serving as interim head coach, the Panthers have already put in requests for other candidates. Reported conversations that garnered attention have also taken place. At present they have reportedly interviewed Jim Caldwell, Steve Wilks, Frank Reich, Ejiro Evero, and Shane Steichen.
Watch this story: Truth vs Hype: Will Tom Brady join the Dolphins.