Does Hurts' Debut Signal the End for Carson Wentz at Philadelphia?
Published 12/13/2020, 10:17 AM EST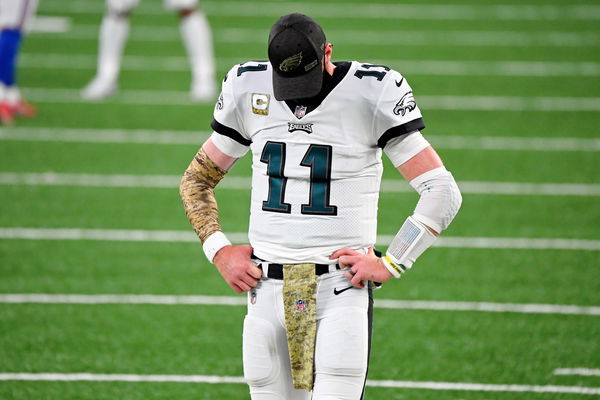 ---
---
When the Philadelphia Eagles snap against the New Orleans Saints on Sunday, they're going to be doing it with a backup quarterback in the pocket instead of Carson Wentz. No, this isn't a rerun of the 2018 Nick Foles – Cinderella Story. It's honestly anything but.
ADVERTISEMENT
Article continues below this ad
Second-year rookie quarterback Jalen Hurts is the one who will be padding up to start against the Saints. Hurts' debut will also further magnify the spotlight on another Philly quarterback, to be precise, their $128 million quarterback, Carson Wentz.
A fall from grace for Carson Wentz
ADVERTISEMENT
Article continues below this ad
The 27-year-old quarterback who was once viewed as a generational talent and the man to lead the Eagles to their first Super Bowl is now a massive 'cap space' headache for the Eagles.
After losing 4 games on the trot, Head Coach Doug Pederson had seen enough and announced the decision to bench the franchise quarterback for Hurts.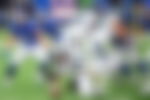 Back in 2017, Wentz was a household name, mentioned in the same breath while talking about the league MVP. However, almost 2 years ago, Wentz's stellar run was cut short due to a season-ending ACL.
Backup quarterback Nick Foles admirably took over from Wentz and led the Eagles to their first-ever Super Bowl. Wentz got his ring, but he wasn't there for the Eagles through the magical playoff run.
Injuries starting to pile up?
Wentz has suffered a long list of injuries while playing in the NFL. Three in particular standout. A torn ACL in 2017, a back fracture in 2018, and a concussion during the playoff game against the Seattle Seahawks last season.
All these injuries have one thing in common. They were all season enders. The toll such injuries take on NFL players and, especially, quarterbacks has been well documented over the years.
While Wentz has remained fit throughout the entirety of the season, it's hard to not think that the previous injuries may have had something to do with Wentz's decline.
An impending cap space crisis
When it comes to answering the question about Wentz's future at Philadelphia, one big factor comes into play in finding the answer, his new contract.
ADVERTISEMENT
Article continues below this ad
Wentz had earlier signed a 4-year $128 million contract extension with the Eagles, which is set to come into effect from March 2021.
Despite the hefty price-tag, the contract, which contains a then NFL record of $107+ million in guarantees, was seen by many as the right move given his explosive exploits with the Eagles' offense. This decision of course deeply impacted the team's cap space.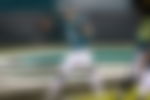 If the Eagles are to cut Wentz around the start of next season, it would cost them approximately $59 million in dead money. Regardless of what happens to Wentz, the Eagles' salary cap situation does not look pretty.
ADVERTISEMENT
Article continues below this ad
While letting go of Carson Wentz would be a financial disaster for the franchise, if Hurts does end up putting up better numbers than his much-experienced compatriot, the Eagles will need quite a few board meetings to sort out their QB predicament.