"Doesn't have an Arm Like Brady" – Former Bucs quarterback rates Jarrett Stidham
Published 05/30/2020, 1:18 PM EDT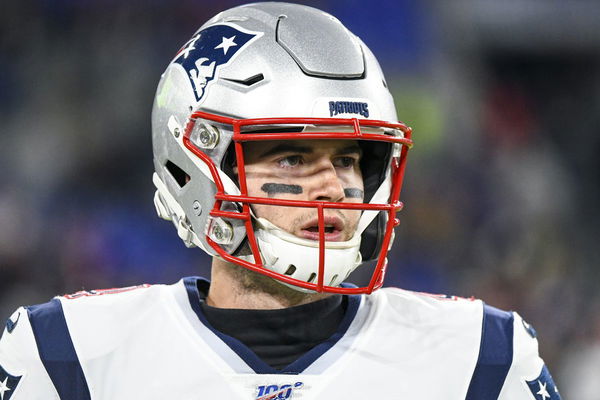 With Tom Brady's departure to the Tampa Bay Buccaneers, the question who will replace him as #1 Quarterback for the New England Patriots has had everyone scratching their heads. Analysts have been debating over whether we will see Brian Hoyer or Jarrett Stidham start for the Patriots in September. Hoyer may have the experience, but Stidham seems to be the one who will pick up the mantle.
ADVERTISEMENT
Article continues below this ad
Is Stidham Truly As Good As We Think?
ADVERTISEMENT
Article continues below this ad
Former Bucs Quarterback and analyst Chris Simms recently announced his Top 40 Quarterbacks on Twitter. According to Simms, Jarrett Stidham is only the 35th-best quarterback in the league presently. Simms clarified that this evaluation of his only based on whatever we have seen so far. Stidham did well in training camp and even during practices in the 2019 regular season.
ADVERTISEMENT
Article continues below this ad
Despite the low ranking, Simms praised Stidham a lot. "First off, I loved [Stidham] coming out of college… He's got great mechanics, he's natural that way. He's smart, and we know he's being well-schooled", Chris said while speaking to NBC. However, the analyst believes that Jarrett's one major weakness is his poor throw.
He threw against the best defense in the league in practice while mimicking styles as the scout team, and the league's best defenders support him. He threw to a scat receiver at Auburn the Pats signed. Wentz doesn't make that throw.

— Daniel Helming (@Not_Simple_) May 30, 2020
ADVERTISEMENT
Article continues below this ad
A Patriots fan countered Simms' opinion by claiming that Stidham threw immensely well in practice. He was as good as can be. Moreover, he is now surrounded by the NFL's best defenders in New England. He went on to say that even Philadelphia Eagles' Carson Wentz can make as good a throw as Stidham did at Auburn University. Wentz is regarded as one of the top quarterbacks currently playing in the NFL.
Chris Simms also ranked other QBs with Tua Tagovailoa at the bottom of the list. Do you think these players deserve to be where they are on Simms' rank list?